A young man in Peshawar, wearing a burqa, went to meet his girlfriend on Monday. Seeing the boy instead of the girl in the burqa, passersby apprehended the suspect and informed their speculation to the police.
One might be fooled into thinking that our society has become more open-minded about seeing two members of the different genders together without automatically assuming the worst. But no. Dating remains to be a challenge in Pakistan. No wonder this man chose to disguise as a woman to meet his lover.
In our country, it is completely okay to marry a stranger and spend the rest of your life with them. But if GOD FORBID, you manifest your interest in getting to know them first, you are suddenly a begairat insaan with no values.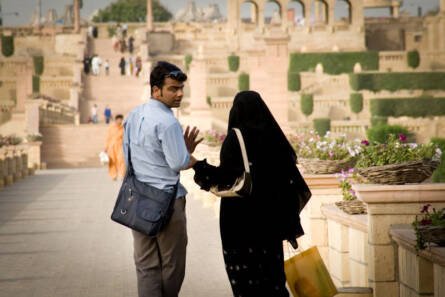 Anyhow, coming back to the recent case of a burqa-clad boy, a video clip surfaced on social media where the local police caught him for disguising as a girl to meet his girlfriend.
All the poor guy wanted was to meet his lover. In fact, to play it safe, he even opted for such an unusual way for the sake of his true love. However, as it appears, the universe does not seem to like them much.
Arrested & investigated
Reportedly, the residents of the area, the burqa-clad boy was in, had the suspicion that in the burqa was not a woman but a man. Needless to say, it might have occurred to them that he came here for some wrong purpose. Thus, they informed the police.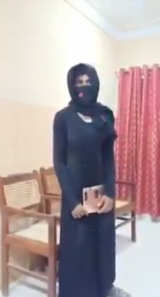 Soon, the police arrived and arrested him. When the police questioned him, he revealed his name to be Asif. In addition to this, the police asked him to remove his niqaab as well as to take off the burqa.
The man in the burqa wore a shirt, pants, and shoes. Moreover, he also had a book in his hand that he was carrying as a part of the disguise. During interrogation, the boy told the police in-charge that he was going to meet his girlfriend at Cinema Road.
Here's the video
According to the clip, the guy was caught by the local police when he was on his way to his girlfriend's place. Later he was arrested and taken into police custody for attempting to double-cross the police by his deceiving appearance.
Sadly, the police caught him before he could meet his girlfriend, who he took all the risk for. Sad or hilarious? Poor guy! So much effort to meet his lover, but all went down the drain due to some uninvited guests.
It is to be noted that this is not the first time such a thing has happened. Last year, another lover was caught dressed as a girl to meet his girlfriend in Punjab. But this burqa disguise is not only used to meet their lovers. Earlier this year, two boys were caught for fooling the police by posing as a couple.
Well, one thing is for sure, the talent that our people have knows no bounds. He certainly proved that modern problems require modern solutions.
What do you think of this story? Let us know in the comments section below.