Pakistan, currently in talks with the IMF about its $6 billion bailout program, on Friday, set a growth target at 4.8% of GDP for financial 2021-22 and a fiscal deficit target of 6.3%. Finance Minister Shaukat Tarin announced the budget before parliament. It has a total spending outlay of Rs 8,487 billion. The budget 2021-22 has some special news for the salaried class.
Tarin said the objectives of the budget are to strike a balance between fiscal deficits and boosting the economy. Gross revenues for the next fiscal year have been estimated at Rs7909 billion compared to Rs6395 billion for the outgoing fiscal year.
This shows a handsome growth of 24% in gross revenues. He said the FBR revenues are projected to grow by 24% from Rs4691 billion to Rs5829 billion. Non-tax revenues are projected to grow by 22%.
Tarin said the provincial share in federal taxes would increase from Rs2704 billion last year to Rs3411 billion. This means an additional Rs707 billion or 25% increase. He said this should enable the provinces to spend resources on development and critical social sectors.
GDP growth target set at 4.8%
The finance minister announced that for FY22, the government had set a GDP growth target at 4.8%. After provincial transfers, the net federal revenues are at Rs4497 billion compared to Rs3691 billion last year. This shows a growth of about 22%.
The overall deficit for 2021-22 is at 6.3% as opposed to 7.1% for the current fiscal year. The primary deficit is targeted at 0.7%. Despite COVID-19, the government has continued on the path of reduction of the primary deficit.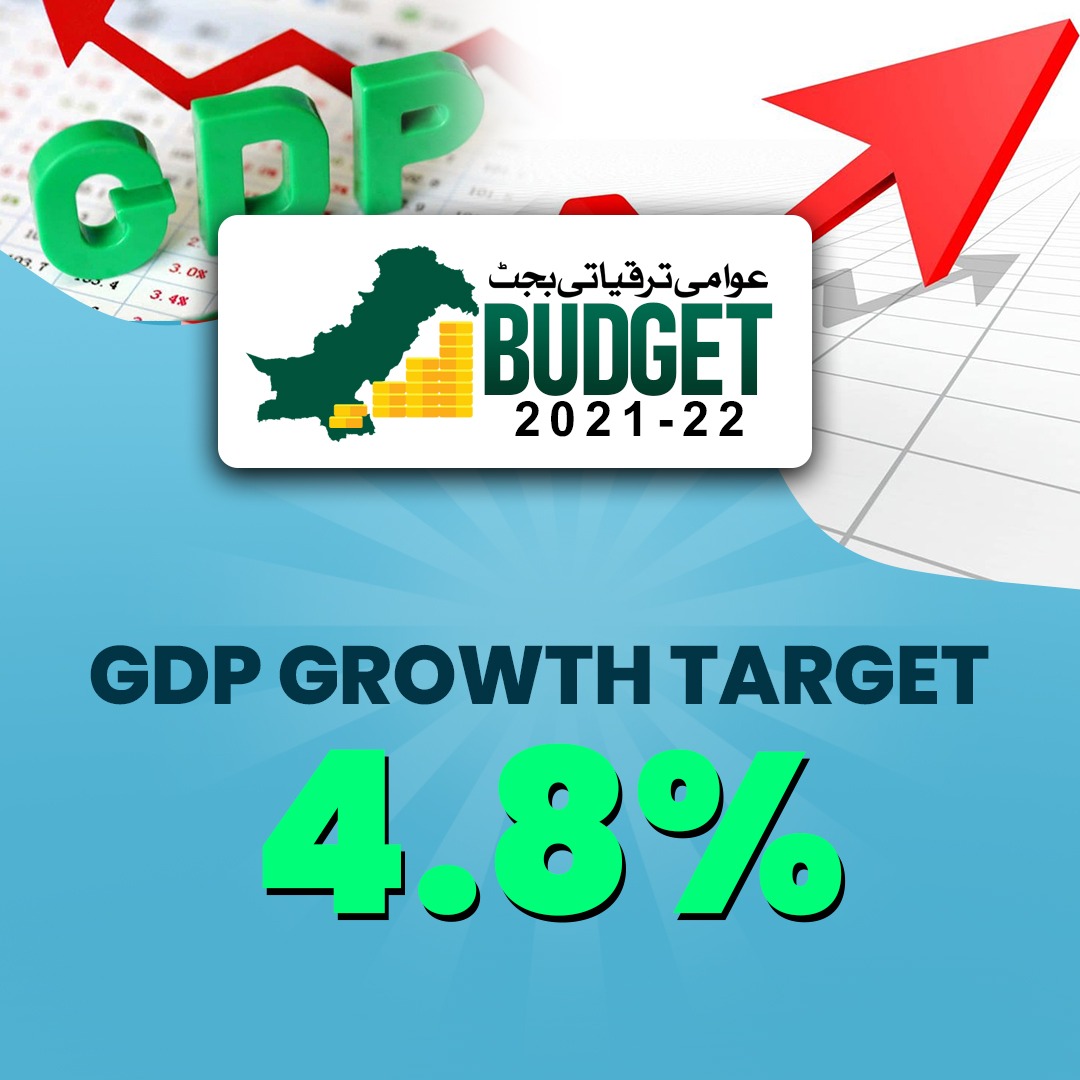 The development spendings have been increased to Rs900 billion from Rs630 billion, an increase of around 40%. Tarin said they will continue to be austere throughout the government.
Meanwhile, Tarin said subsidies are at Rs682 billion up from Rs430 billion. These mostly comprise due payments of Independent Power Producers, tariff differential subsidies, and concessions on food.
Key announcements
Rs900 billion allocated for federal PSDP – 40% increase from last year
Rs12 billion allocated for the agriculture sector
Rs118 billion for power distribution
Rs61 billion for Viability Gap Fund
Rs14 billion for Climate Change mitigation projects
$1.1 billion for vaccines procurement
Rs100 billion for Covid-19 Emergency Fund
Rs12 billion special grant for Sindh
'Everyone will be happy' says PM Imran Khan
Earlier, a reporter asked Prime Minister Imran Khan if the budget will be people-friendly. "Everyone will be happy [with the budget]," he replied.
Tarin said PM Imran Khan wants to change history by uplifting four to six million low-income households through a bottom-up approach from next year. He said every household will be provided Rs500,000 rupees interest-free business loans. Every farming household will get a Rs2050,000 interest-free farming loan and Rs200,000 for tractors and machinery. These families will be provided with low-interest housing loans of up to a Rs2million. Every household shall be provided with a Sehat Card and 1% from every household will be provided free technical training. He said this is an essential requirement of Imran Khan's promise of Riasat-e-Madina.
Tarin said the major initiative of the government for social protection and poverty alleviation is the Ehsaas Programme. For this program, Rs260 billion are being proposed in the next budget.
Pakistan Tehreek-e-Insaf (PTI) claims to have announced a pro-people, business-friendly, and growth-oriented budget for the fiscal year 2021-22. According to Express Tribune, the government has set the minimum wage at Rs20,000. Meanwhile, the budget 2021-22 brought no new tax for the salaried class.
What do you think of this story? Let us know in the comments section below.