Brunei is to become the first East Asian country to adopt Sharia law as the sultan confirmed the Islamic penal code on Wednesday. The move sparks broad concern over the rights of women and minorities.
Sharia law will be implemented nationwide starting Thursday.
"Today… I place my faith in and am grateful to Allah the almighty to announce that tomorrow, Thursday May 1, 2014, will see the enforcement of Sharia law phase one, to be followed by the other phases," Sultan Hassanal Bolkiah said in a speech, AFP reports.
The implementation of Sharia law would mean that residents will face conviction by Islamic courts for their crimes. Most of the laws will apply to non-Muslims, as well. The first phase, which goes into effect on Thursday, will give offenders fines or jail time for acts ranging from pregnancy outside marriage, propagating other religions, or failure to perform Friday prayers. A second phase will go into effect after a year, punishing those who steal or consume alcohol with whipping and amputations. The final stage will take effect in two years, and will use the death penalty – possibly by stoning – for crimes like adultery, sodomy, or insulting the Koran or the Prophet Mohammed.
The implementation of the Sharia law sparks concerns over the rights of minorities as about 20 percent of Brunei residents are non-Muslim, most of whom follow Buddhist, Christian, and indigenous belief systems. Chinese make up the largest ethnic minority at 10 percent of the population, while the majority ethnic Malays make up 65 percent. Brunei is also home to 30,000 mostly Roman Catholic Filipino migrant workers and many Western oil workers, according to Reuters.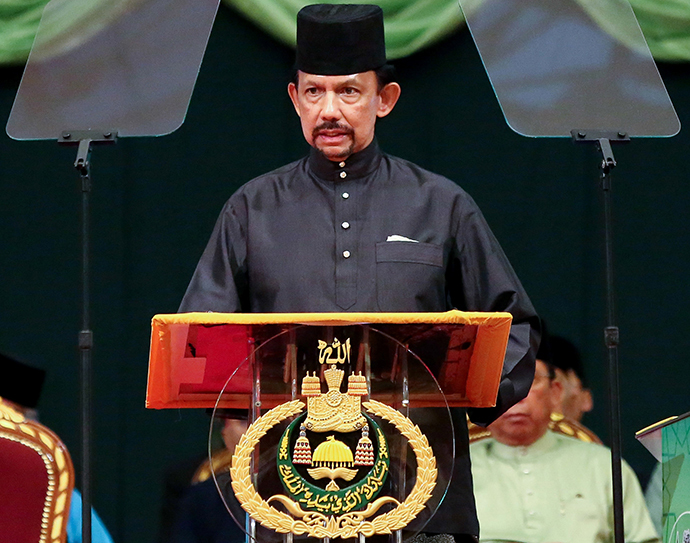 The United Nations spoke out against the revised penal code. "We are deeply concerned about the revised penal code in Brunei Darussalam, due to come into force later this month, which stipulates the death penalty for numerous offenses," Rupert Colville, spokesman for the UN high commissioner for human rights, told reporters. "The application of the death penalty for such a broad range of offenses contravenes international law."
Emerlynne Gil, Southeast Asia legal adviser for the International Commission of Jurists, told Reuters: "A lot of these provisions and penalties discriminate against women. Stoning to death normally has a huge impact on women because more often than not they are found guilty of these crimes."
Gay rights organizations in the Asia Pacific have condemned the move to Sharia law. "It may open the floodgates for further human rights violations against women, children, and other people on the basis of sexual orientation and gender identity," two such groups wrote in a Malaysian Insider op-ed. "Penalty by death sentence contravenes several international human rights laws. Further, death by stoning constitutes torture or other cruel, degrading and inhumane acts of punishment, thus a clear infringement of international humanitarian principles and universal human rights."
Indigenous peoples who are not part of the Malay Muslim majority are encouraged to move away from their native languages and cultures, the World Directory of Minorities and Indigenous Peoples reported. The government also organizes proselytizing activities and provides financial incentives for converting to Islam.
But Brunei's top Islamic scholar denied that Sharia law would lead to extremes in the country. "It is not indiscriminate cutting or stoning or caning," state media quoted Awang Abdul Aziz as saying after the law was announced. "There are conditions and there are methods that are just and fair."
Diplomats are taking a wait-and-see approach to the law, saying it remains unclear how the system will work once implemented, as well as how it will coexist with the existing British-based legal system, Reuters reported.
First Published in RT, April 30th, 2014.