A British woman left the United Kingdom with her baby to join ISIS in Syria. She has reportedly fled to Turkey after going through a living hell.
According to the reports, the 25 year old Tareena Shakil, told her family she was going to Spain on holiday, but instead, she took her boy Zaheem (then-14-month-old) to the ISIS stronghold of Raqqa, in October 2014.
She used to operate social media (Facebook) account under the name Tameena al Amirah and used it for posting extremist messages, which included images of Islamist fighters and the black flag of ISIS.  Tameena al Amirah called herself a "slave to Allah." Her account has been deleted.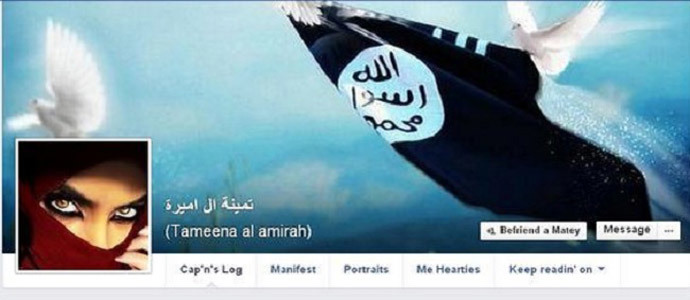 On the other hand Tareena Shakil, from Staffordshire, appears to have regretted her decision to join ISIS after she was forced to become a Jihadist's bride.
According to the reports, Tareena Shakil bribed a taxi driver to take her to the Syria-Turkey border and managed to climb over a 10-foot barbed wire fence while carrying her son, Zaheem.
A family friend of Tareena reported that her hand and feet were hurt and cut while climbing the fence.
Tareena pleaded Turkish border officials not to shoot her, telling them that she was "desperate." According to the reports, the young mum is being held and interrogated at a Turkish detention center, located in Gaziantep.
While talking to the media, a family friend of Tareen said: "It's a miracle she escaped alive. Tareena realized when she got to Syria she had been a victim of false propaganda from ISIS. She hoped to escape to an idyllic lifestyle. Instead she found a living hell."
The family friend further added: "They tried to force her to marry a man and when she refused he attacked her. She decided she couldn't take it anymore, broke into a property and stole her passport."
According to the reports the father of Tareen Shakil, Mohammed Shakil has flown to Turkey to bring his daughter and grandson back to the United Kingdom.
A spokesman for West Midlands Police informed the media: "We are aware a missing British woman traveling from Syria has been detained by Turkish authorities for immigration matters. Police are working with the Turkish authorities to ensure her safe return the UK."
However, social media users are urging David Cameron to not let her back into the country.