Dubai, UAE: The British Council held its annual Schools Now! conference, in Dubai on 1 and 2 March 2023, which brought together education leaders and professionals from British Council's Partner Schools around the world, to discuss the latest innovations in teaching and learning across international education.
The Schools Now! 2023, theme was 'Transforming Schools: Leadership at all levels' and explored effective leadership across school communities through keynote presentations, panel discussions and workshops. Delegates learned about the importance of developing student leaders, as well as professional pathways to leadership.
Douglas Woods, Global Head of Education Services, British Council, spoke of promoting leadership at all levels in schools to enable an inclusive culture, that nurtures talents and distributes leadership effectively across staff. Through this approach a safe and enriching environment is enabled where students will have the confidence to step up and develop their own leadership skills that will support them in schools and throughout their lives. He also touched upon how effective leadership is more important for schools than at any time in the past as we emerge from the pandemic.
The conference was a hybrid event, connecting over 300 delegates face to face in Dubai with a further 1,500 virtual attendees from around the world. This unique format allowed for an even greater exchange of ideas, insights and best practices from attendees from different regions and cultures. Special guests of the conference included His Excellency Patrick Moody, British Ambassador to UAE and His Excellency Dr Ahmad Belhoul Al Falasi, Minister of Education in the UAE.
Keynote speakers and workshop presenters from Pakistan, Egypt, Jordan, Nigeria, Peru, Spain and the United Kingdom, contributed to the rich and diverse discussions.
Sir Mark Grundy, CEO of Shireland Collegiate Academy Trust, who delivered the first keynote, explored the topic of retaining our best staff to achieve the highest and most specific levels of achievement for our young people. Professor Eman Gaad, Dean of the Faculty of Education and a Professor of Special and Inclusive Education, British University in Dubai (BUiD) spoke about the perceptions of educational leadership for inclusivity. Other keynotes focused on developing 21st century student leaders and leadership development at multiple levels in the school community.
Simon Higgins, Global Head of School Exams, British Council said, 'We were delighted to host our eighth annual flagship event Schools Now! global conference in Dubai. This year's theme, 'Leadership at all levels' helped school leaders to reflect on the challenges they continue to face daily in a post pandemic world, and also explored ways to develop leadership throughout their school to better support staff, students, and the wider community.'
Maarya Rehman, Deputy Director British Council Pakistan said: 'In Pakistan we have among the largest Partner School networks in the world with 730 schools in 53 cities divided into 6 regions across the country – delivering world class UK international qualifications. Our aim is to provide expert operational and educational support for our Partner Schools at every opportunity and at every level – making a difference to young lives in local communities across Pakistan. The Schools Now! Conference provides essential learnings to help schools develop the leaders of tomorrow.'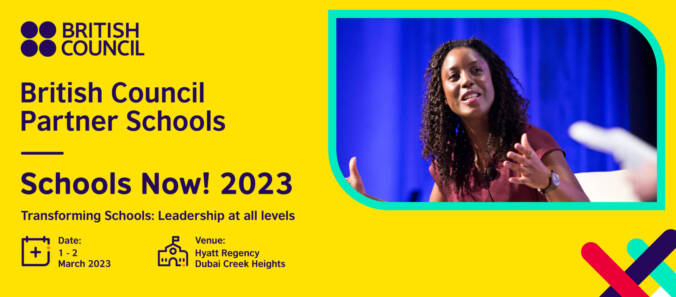 In Pakistan the support for Partner Schools include:
• Online School System – a free professional development hub for teachers and leaders, exam delivery including full administrative & operational support for world-class
• Increased engagement via a much larger and dedicated account relationship team to improve facilitation for schools nationwide
• Webinars and support material for exam officers to increase efficiency and minimise errors
• Exam delivery, including full administrative & operational support
• Onboarding of schools on the Cambridge network
• Professional Development, and Networking events, for teachers and school leaders
• Participation in Global events: Schools Now, Your World
Over 40 delegates from Pakistan attended the event which included senior representatives from the leading schools of Pakistan.
Globally, British Council Partner Schools work with more than 2,000 schools, support over 100,000 teachers and touch the lives of about one million students. With attendees from the Americas, Europe Sub-Saharan Africa, Middle East & North Africa, South Asia and East Asia, the truly global event helps to support the mission of the British Council in building connections, understanding and trust through education.
For media enquiries, please contact:
Shahrukh Ali Mirza
Head of Communications South Asia
Mobile: 0300 – 9803035
Email: shahrukhali.mirza@britishcouncil.org
About the British Council
The British Council is the UK's international organisation for cultural relations and educational opportunities. We support peace and prosperity by building connections, understanding and trust between people in the UK and countries worldwide. We work with people in over 200 countries and territories and are on the ground in more than 100 countries. In 2020–21 we connected with 67 million people directly and with 745 million people overall.
For more information, please visit: www.britishcouncil.pk