"Education is the most powerful weapon which you can use to change the world." – Nelson Mandela
Education is a necessity and a basic right of every human being in this world. However, for various social and economic reasons, access to education is a significant issue in Pakistan.
To tackle these issues at a grassroots level, the British Council in partnership with the Educate a Child Initiative initiated the ILMPOSSIBLE: Take A Child To School programme. So instead of a top-down approach, the idea was to harness the power of communities to resolve challenges around access to education, particularly areas where enrollment rates are the lowest in Pakistan.
Over 15,000 young people were trained to become 'Ilmbassadors' – volunteers who worked with community leaders to encourage children going to school. ILMPOSSIBLE helped over 350 Mohalla Committees, bringing together community members and influencers such as local Imams, Nazims, District Education Officers, retired teachers, businessmen and social activists to support the ILMBASSADORS and schools to take on to resolve quality and infrastructural problems.
Through the hard work and commitment of these young people and communities, over the course of the programme over 225,000 children were enrolled in schools. To celebrate their efforts and to encourage them on this path of development, an ILMSummit was held recently. A blend of unique and diversified people, including policy makers, parliamentarians, project ambassadors, students, teachers from 65 different districts of Pakistan along with many others, combined under one roof for a brilliant cause.
The summit consisted of mini-workshops that focused on polishing and enhancing skills of leadership and teaching practices to overcome the challenges related to enrollment and retention in Pakistan.
The very reason to encourage such initiatives is to empower communities and equip them with the right skills and knowledge to engender positive and sustainable development. The network of parents, teachers, students, community leaders, educational activists, young people and education officials that were formed as part of ILMPOSSIBLE: Take a Child to School is the perfect example of a collaborative effort as a whole.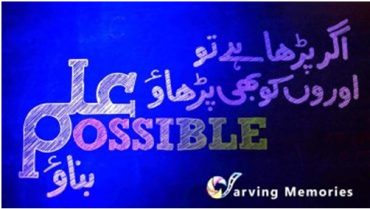 Their collective influence can be seen through the success of the programme, where the initial aim was to put 185,000 children, aged 5 to 11 years into primary schools. However, beyond all the expectations, the enrollment went over 225,000 children.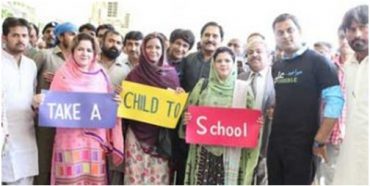 Young people just need a correct platform and appropriate tools to realise and utilise their potential accordingly. These young kids who are now in schools due to ILMPOSSIBLE: Take a Child to School programme are actually the foundation of our society and we need to help them achieve their aspirations and dreams because they are OUR future.