A video has resurfaced on social media which shows a bride and groom skipping the customary flower garlands and exchanging snake garlands during their wedding.
The incident happened in a remote village in the Beed district in Maharashtra, where the bride and groom chose deadly snake garlands instead of the customary flower garlands. The bizarre incident reportedly took place in 2010.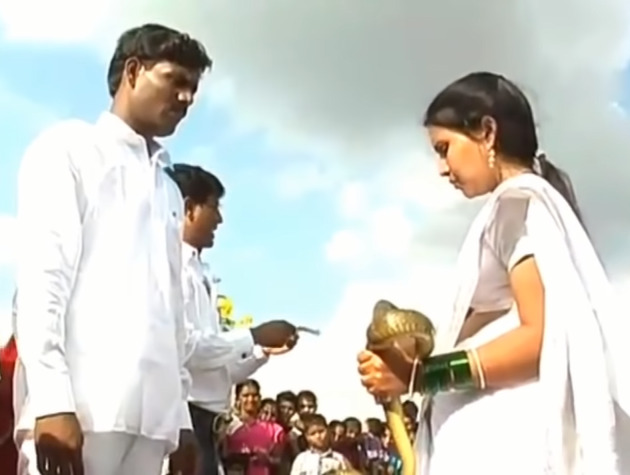 Siddharth Sonavane, 25, and his fiancee Shrusti Ausarmal, 23, around a decade back — exchanged snake garlands during their wedding ceremony on November 12, 2010, in the remote village. The surreal video has resurfaced on social media.
The horrifying video shows the couple dressed in white attires, skipping the customary flower garlands, the couple chose deadly snake garlands and wrapped them around each other's necks without flinching for a moment. The bride first puts a huge snake around the groom's neck, following which the couple poses for photographs.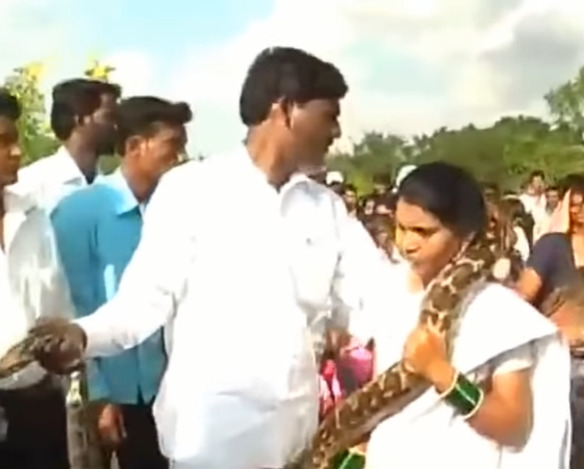 When the groom's turn comes, he brings a big python and puts it around the bride's neck. A huge crowd is also present there to attend the wedding. Notably, the two are local wildlife department employees, who reside in a remote district of the state.
The video has gone viral, leaving netizens stunned who can't seem to wrap their heads around the bizarre wedding ritual. Many people joked about it, while others were curious to know what was happening.
Take a look at the video!
Downright terrifying, isn't it? Dozens of snake videos have caused quite a stir on social media in the past, and it appears that the mania is not going away anytime soon. The reptiles were released back into the wild following the wedding, according to reports.
In another unusual wedding in India, an electrical malfunction led to a bizarre mix-up of grooms between two sisters during a quadruple wedding function when a power failure combined with veiling tradition led to the mix-up.
Weddings in India truly never disappoint when it comes to extravagance and plenty of drama, humor, and suspense. They are no less than a movie plot: drama, suspense, and tragedy are a natural part of the event. 
In another gripping turn of events, the parents of a groom and bride ran away together in an attempt to renew their lost love during a long-awaited wedding ceremony in Gujrat.
What do you think of this story? Let us know in the comments section below.