A video of a couple sitting in a massive cooking pot floating through flooded streets to their wedding in southern India has provided a moment of comfort to a region devastated by heavy rains.
Akash and Aishwarya were determined not to miss their big day in the village of Thalavady in Kerala state on Monday. Both sailed across submerged streets in a massive cooking pot to reach their wedding venue as heavy rains flooded the southern state of Kerala.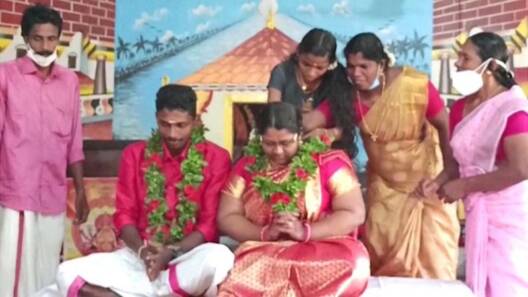 The couple borrowed the aluminum cooking pot from another local temple. They asked to be assisted in the vessel by men pulling them through the streets. "Should have booked a boat instead of a car…" a man can be heard saying in the background of one video.
"It has turned into a wedding which we never imagined," the bride, Aishwarya, told local news channel Asianet.
The newlyweds said they had initially planned a small event with a limited number of family members. However, interest after the images were posted online made them feel as though they had shared their special day with many others.
Akash said that they had booked their wedding date a while ago. However, they did not want to postpone it as they did not know when they would be able to book more time off work, news agency PTI reported.
In addition, he said that the cooking pot was "the only option" available at short notice.
Have a look at the video!
Flooding and landslides caused by heavy rains over the weekend have killed 28 people across the state. While their wedding venue was also partially flooded, the pair were determined to tie the knot in a small ceremony. Both husband and wife are reportedly healthcare workers.
Images showed cars and buses submerged by the floodwaters after heavy rains battered Kerala over the past four days. Rescuers searched for survivors on Monday as the army, navy, and air force assisted with relief and rescue operations. In 2018, flooding killed nearly 500 people across Kerala.
Anyhow, weddings in India are known for their extravaganza and a hearty dose of humor, drama, and suspense. If anything, Indian weddings are never short of action. Earlier, another video went viral wherein the bride's sister was seen kissing the groom on the wedding stage.
In another strange turn of events, a 22-year-old bride from India walked out. She called off the wedding ceremony after her groom and his band of guests, the baraatis turned up drunk at the venue and tried to force her to groove to the music on stage before the exchange of vows.
What do you think of this story? Let us know in the comments section below.