Disclaimer*: The articles shared under 'Your Voice' section are sent to us by contributors and we neither confirm nor deny the authenticity of any facts stated below. Parhlo will not be liable for any false, inaccurate, inappropriate or incomplete information presented on the website. Read our disclaimer.
Ramadan is the most sacred month in which Shaitaan is seized and the blessings have multiplied the thousands of times but people are not okay with the circumstances created by the government regarding the prices of fruits nowadays.
There is no hour of ease for people just because of day by day increasing prices of fruits up to highest ranges. The normal and constant prices are seen to be escalated rapidly. A poor man can't even imagine purchasing some sweet fruits for breaking his fast.
Definitely, fruits are absolute elements for Sehri and Iftaar because these are equally utilized in every home to make chats, different salads and shakes too.
This is a huge brutality that people are so feeble that they can't stop this but they buy them at the prices demanded by the sellers just because they have to eat them and they have no other option. They can neither argue nor can do something against it.
Last year, the same situations were observed and a private organization made an appeal towards the people to boycott the fruits totally.
Luckily, a large number of them followed it and within a few days a sharp decline in the prices of fruits was seen.That was a great success and genuinely a good step is taken for the people of different areas.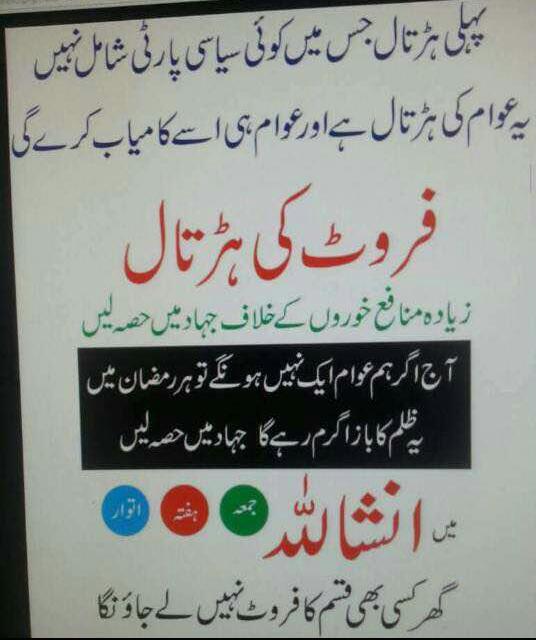 Same like that, this year the people are deciding to boycott the fruits without waiting for any organization to make an appeal or to step forward. Including Karachi, the people of whole Pakistan have decided to boycott the fruits for 3 days and those are 2,3 and 4 June so that they could get something positive this time too for themselves and for others too.
It's programmed that people would not buy any fruit in these days and will rely on others dishes and foods for the preparation of their Sehar and Iftar.
The people have liked this plan and they are totally in this favor.Yet, they are excited too for this. Everyone is hoping to acquire the positive outcomes like the last year.
Everyone is being asked to not buy fruits on these dates and to wait for the right things to happen. Let's hope for the best and be a part of this action to conclude the better results as it's completely for our own rights.
Read Also: Virologist Confirms COVID-19 Can Survive On Fruits And Vegetables