The leader of ISIS, who appeared in a Ramadan prayer video calling on Muslims to obey him, has prompted confusion and become the subject of mockery as he showed off a $6,500 'James Bond' watch.
Abu Bakr al-Baghdadi made a public appearance following rumors of his death.
Presumably addressing Muslims from the Great Mosque in central Mosul, he was clad in a long black robe and a black turban. But the Sunni radical leader became the subject of derision on social media after flashing an expensive-looking wristwatch.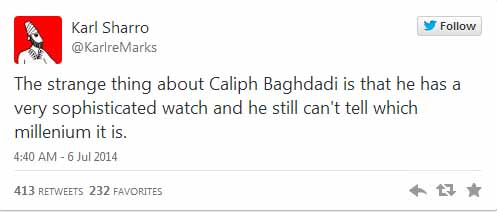 Eagle-eyed viewers believed the watch could be either Rolex or Sekonda or $6,500 Omega Seamaster that has been associated with James Bond movies since 1995.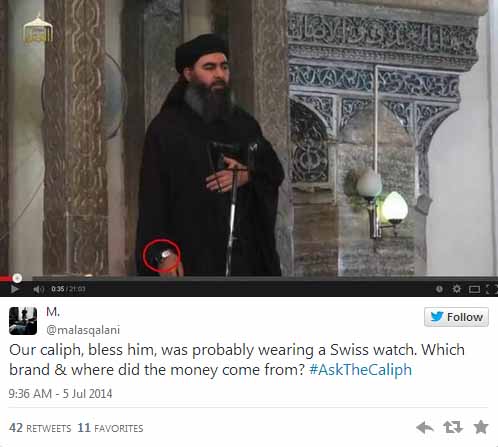 His choice of timepiece was criticized to be running counter to the content of his controversial speech in which he was believed to be trying to sound like an Islamic leader from over 1,000 years ago.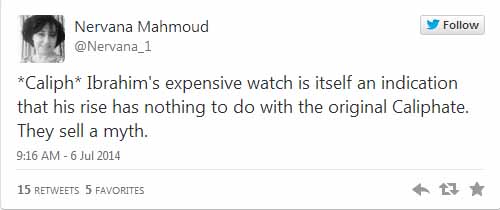 Others said that wearing such an expensive accessory was contradictory to the content of his sermon, in which he described his followers as equals.
"I am not better than you or more virtuous than you," al-Baghdadi says in the video. "I am the wali [leader] who presides over you, though I am not the best of you. If you see me on the right path, help me. If you see me on the wrong path, advise and halt me. And obey me as long as I obey God."
Also Read: ISIS, Inc. – Jihadists attract investors, fighters with annual reports & glossy PR
Iraq security agencies are working to verify the authenticity of a video that was posted on at least two websites known to be used by the group and that had the logo of the Sunni radicals' media arm.
The 21-minute video of the Islamist leader, said to be his first sermon, surfaced some 24 hours after rumors that he had been injured, or even killed, in an attack.
A senior Iraqi intelligence official, who spoke on condition of anonymity, told the AP on Saturday that an initial analysis indicated that the man in the video is indeed al-Baghdadi.
Iraqi military spokesman Lt. Gen. Qassim al-Moussawi told journalists that the country's security services were working to verify whether the man in the video was actually al-Baghdadi.
First Published In Rt, 7th July, 2014.