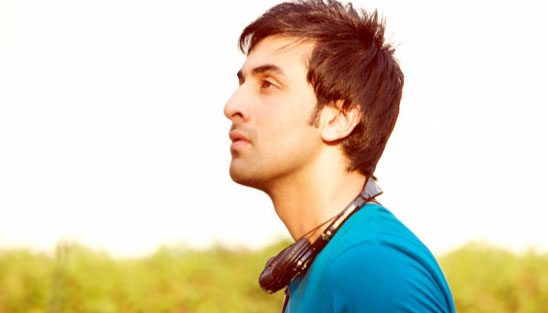 aTWho does not know the famous Bollywood actor with dreamy eyes and pretty face, Ranbir Kapoor. Over the period of time, because of his utterly successful Bollywood career he has become one of the highest paid actors in India. Moreover, he is also considered to be one of the most popular celebrities in India.
He has a number of awards and nominations to his names which includes five Filmfare Awards.  Let's have a look at Bollywood life of Ranbir Kapoor:
The Bollywood life of Ranbir Kapoor started in 2007 with Sanjay. L. Bhansali's movie Saawariya. He told the media that his character in the movie was written to pay homage to his late grandfather. However, movie analysts were disappointed with the movie and some of them shared harsh remarks. Jaspreet Pandohar (BBC) called it a "misfire on a massive scale".
Rajeev Masand of CNN IBN found it to be "contrived and fake", but admired Ranbir's "affable charm" and said that "he's got that star quality to him, which is so rare to find." So the Bollywood life of Ranbir Kapoor started with Saawariya's failure to earn profits at the box office.
On the contrary, he earned the first award of his Bollywood life at the annual Filmfare Awards ceremony for Best Male Debut (Saawariya).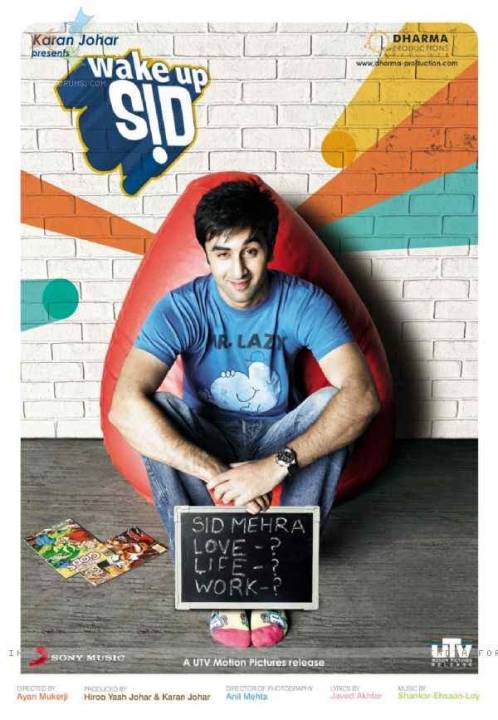 In spite of Saawariya's commercial failure, Ranbir was offered the lead role by Yash Raj Films for the romantic comedy movie, Bachna Ae Haseeno. This film was the fiest commercial success in his Bollywood life. He played the role of a womanizer. Bipasha Basu, Minissha Lamba, and Deepika Padukone were also a part of the movie. He got some positive response over the movie.
It was forecasted by Rachel Saltz of The New York Times that his "puppy-dog sweetness" is going to "serve him well as a Bollywood leading man".
2009 was one of the most lucrative years in the early bollywood life of Ranbir Kapoor. He has three film releases in that year; Wake up Sid by Ayan Mukerji was one on them. He played the role of a rich, lazy teenager who experiences drastic changes in his life.
When Ayan shared the then-untitled script of the movie to him, Ranbir suggested 'Wake up Sid' to be the title. The media was shaky about movie's financial success but critics were also praises for this dynamic actor. His bollywood life saw another high with Taran Adarsh's (Bollywood Hungama) review that Ranbir Kapoor as an actor is "amongst the best in the business today".
The third release of the year 2009 was 'Ajab Prem Ki Ghazab Kahani' in which he was casted against Katrina Kaif. His Bollywood life once again achieved a new mile stone as the movie emerged as the fourth highest grossing Bollywood movie in the year 2009.
 He got mixed reviews from the critics.  Gaurav Malani commended his panache for comedy, but disapproved of his "over-excited husky baritone".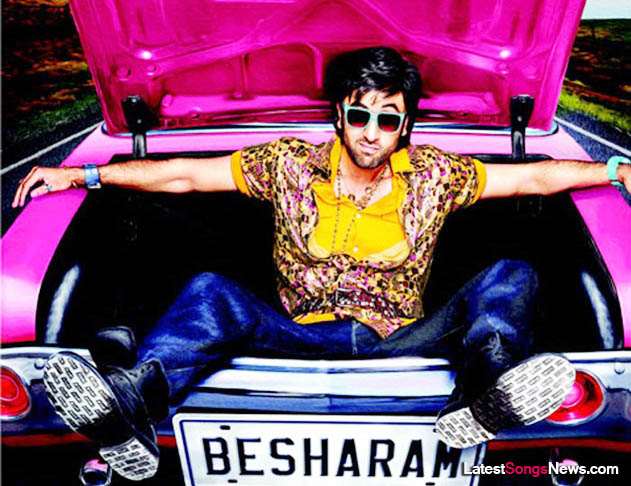 The fourth and final release of the year was Rocket Singh by Shimit Amin. He played the role of a Sardar who aspires to be a Salesman. The film added more value and credibility to Bollywood life of Ranbir Kapoor as it earned him good remarks by film critic. Mayank Shekhar appreciated his performance in the film by calling it "astonishingly sincere".
At the 55th Filmfare Awards, Ranbir managed to add another achievement in his Bollywood life by receiving the award for Best Actor (by Filmfare Critics) for his performances in three of his 2009 releases. He also managed to receive two Best Actor nominations at the same event for the movies Wake Up Sid and Ajab Prem Ki Ghazab Kahani.
Rabir Kapoor's first release of 2010 was Rajneeti which was this first mature role (as per him). Nikhat Kazmi (The Times of India) was of the opinion that: "The film finally belongs to Ranbir Kapoor who perfects the art of minimalism – and literally grows before your eyes – as the simmering volcano that cannot be held back, once it erupts."
The movie was a commercial success and collected the worldwide earning amounting to 1.43 billion Indian Rupees. This was the biggest commercial success of Ranbir's Bollywood life which also earned him the third Best Actor nomination at Filmfare Awards.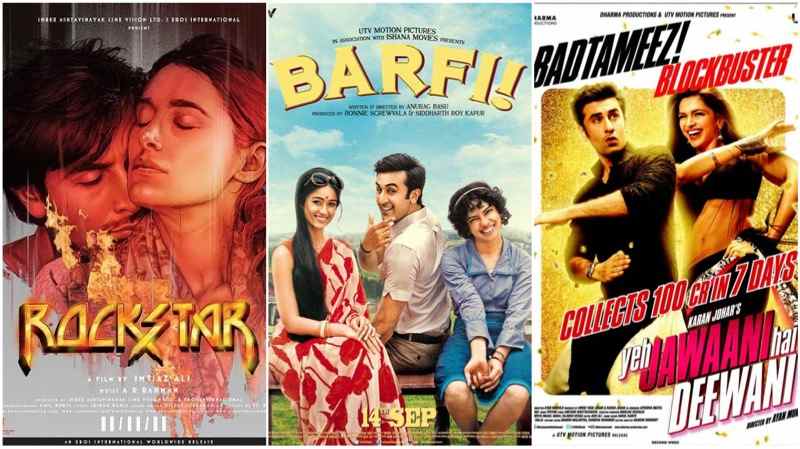 Later in 2010, Ranbir paired up with Priyanka Chopra for the movie Anjaana Anjaani, by Anand. The film did not add stars to his Bollywood life and was a moderate financial success. It earned him a little applause from the critics.
After performing in Chillar Party (2011), Ranbir starred in Imtiaz Ali's Rockstar. This movie brought the biggest through in his Bollywood life. Film critics were absolutely blown away by his performance. Not a single person was able to criticize him. Aniruddha Guha of Daily News and Analysis commended his performing by declaring his performance as:
Read Also: Ranbir Kapoor And Rishi Kapoor Break Silence On The Mahira Issue
"Hindi cinema's most accomplished performances by a lead actor". For his lead role in Rockstar, Ranbir won both the Best Actor and Best Actor (Critics) trophies at the 57th Filmfare Awards ceremony. Moreover, he also won the Best Actor award at Screen and IIFA. The movie marked the biggest success of his Bollywood life at that time, with gross revenue of 1.07 billion Indian rupees (worldwide).
Barfi (2012) proved to be lucky for Ranbir's Bollywood life. It was the very first release of Ranbir's Bollywood life which earned over 1 billion Indian rupees at the box office in India. Barfi was well acknowledged by the critics, and the performances of all the three lead actors were highly praised.
 Raja Sen (Rediff.com) was of view that "he does very strongly indeed with this Chaplin-tribute role, bestowing his character with heart every step of the way". The performance in the movie earned him the second consecutive Best Actor award at the Filmfare, Screen, and IIFA Award events.
In 2013, Ranbir reunited with Ayan Mukhaji to work on the romantic comedy Yeh Jawaani Hai Deewani. He worked opposite to Deepika Padukone. Yeh Jawaani Hai Deewani proved to be another success story in his Bollywood life.
It opened to record breaking collections, and appeared as one of the highest earning Bollywood movies of all times. It earned 3.02 billion Indian rupees. It also earned him another Best Actor nomination at Filmfare Awards.
The second release of the year 2013 was Besharam in which he played the role of a thug. The film was a disaster and dented Ranbir's Bollywood life badly.
Ranbir still has chance to reclaim himself and enrich his bollywood life with his upcoming projects, such as Bombay Velvet by director Anurag Kashyap. The film is scheduled to release in May 2015. He has also taken a new step in his Bollywood life by launching a production company by the name of Picture Shuru Productions in association with director Anurag Basu.
Their very first production is the comedy mystery film 'Jagga Jasoos'. The film will feature Ranbir Kapoor and Katrina Kaif as teenage detective. Ranbir is filming Imtiaz Ali's movie 'Tamasha' alongside Deepika Padukone. He will also star in Vicky Singh's movie 'Roy' with Jacqueline Fernandez and Arjun Rampal.
He aims to take his Bollywood life to new heights by committing to star opposite to Alia Bhatt in Ayan Mukerji's movie (untitled) which is going to be a fantasy move on a man with supernatural abilities.