Lahore is in the news again; not for the cities lively people or the great things, the city's known for, but for the recent atrocities that have hit the city's peace. A blast hits Lahore and as many as 7 people died while 15 injured. The death toll is expected to rise, unfortunately.
It all began some days ago when Lahore was hit with a blast. Followed by, the serenity and gusto of Sehwan were targeted at the Lal Shahbaz Qalandar's shrine. And now, once again, Lahore suffers. Whether it is a suicide attack or just a generator explosion, people still lost their lives and peace is once again disrupted.
A Recent update shows there was another blast in Lahore. This time, a restaurant in Gulberg was the target. We cannot confirm any casualties yet or whether it was a suicide attack!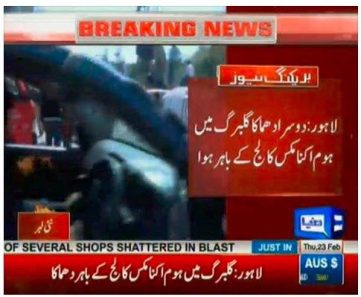 There is also a doubt of this second blast news being a hoax. Don't believe anything unless official statements confirming anything are released.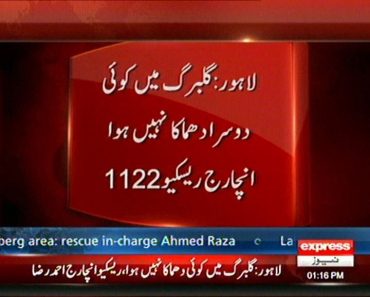 It still cannot be confirmed and has led people to argue about it. People are confused and cannot decide if it actually a bomb blast or just an explosion in the generator of the area.
Mobile footage taken moments after the blast at restaurant in #Lahore's Defence area.#LahoreBlast pic.twitter.com/O0AtuFwAhA

— azhar khan (@Azharkh4) February 23, 2017
Punjab govt saying the #Lahoreblast is a 'generator blast'; Punjab police says 8-10 kg explosive used. Confusion abound

— Javeria (@JaveriaShakil) February 23, 2017
Generator blast aisa hota hai?? #LahoreBlast pic.twitter.com/UOsxbD2jF8

— Hassan (@HASSAN_MUNIR_) February 23, 2017
Clearly it wasn't a generator blast! Ya Allah rehm farma #LahoreBlast

— Awais (@Awaiskhan_) February 23, 2017
So a Generator exploded and it killed 8 people and 18 are injured severely doesn't it sounds fishy?? #LahoreBlast

— 乙aki (@ZakiZaidi_) February 23, 2017
I could tell by the noise I heard that it was not a generator blast. Please stay safe. #LahoreBlast pic.twitter.com/djMKrsEyF4

— Anza (@AnzaIftikhar) February 23, 2017
#defence #LahoreBlast : Now, not confermed that it's generator explosion or terrorism.#DHA #dhablast #Lahoreblast #Operation #کچھ_تو_کہو

— ansab naz (@AnsabNaz) February 23, 2017
BOMB-HOW-PATTY
even the board is telling a story#LahoreBlast pic.twitter.com/6xgmVdZSvG

— Fawad Rizvi (@fadioz) February 23, 2017
Grim pictures coming in from yet another #LahoreBlast . Generator blast or not, this will induce more psychological fear in people.

— Maria Sartaj (@chainacoffeemug) February 23, 2017
While the Government of Punjab just made it clear that the blast was not a suicide attack, it was an explosion in a generator.
Clarification on Lahore Y block blast: It's a generator blast and rescue team has reached the site. Please spread this.

— Govt Of The Punjab (@GovtOfPunjab) February 23, 2017
"There was no reason to target the building. I have been informed that plaza was not inaugurated yet." Law Minister Punjab Rana Sanaullah

— Govt Of The Punjab (@GovtOfPunjab) February 23, 2017
Our sincerest condolences to the families of all those who lost their lives in this tragic incident. May God provide strength to their families during this calamity.
Read Also: Here's Everything That Has Happened After The Tragic Bomb Blast Took Place In Lahore