Bilawal Bhutto Zardari, 25-years-old, grandson of Zulfiqar Ali Bhutto and son of Benazir Bhutto, is all set to begin his political career formally. Bilawal Bhutto is all set to begin politics of masses at the jalsa on the 18th of October which is expected to be one the biggest ever. Looking at the legacy of his grandfather who is regarded as the father of masses politics in Pakistan, jiyalas and all other abandoned supporters of PPP have high expectations from him. He is the last hope of PPP and the deprived jiyalas. Bilawal is the last ray of hope for the revival of PPP in Pakistan. The old jiyalas see an image of eloquent Zulfiqar Ali Bhutto in him. But, the least they expect of him is to portray his father's image or pursue his politics.
Expected to begin the speech on 18th October with Benazir's undelivered speech of 18th October 2007, which was ruined because of the assassination attempt on her at Karsaz, Bilawal Bhutto will definitely reminiscence of her great mother and grandfather. But, there is a whole set of great challenges in front of him. The times have changed so has Pakistan. Bilawal Bhutto must realize this. The image he carries of Zulfiqar Ali Bhutto is equally made foggy by the image he carries of his father. In the past seven years, much has changed for PPP and thus for him. The party is once known as the voice of people, house of down-trodden, and helping hand for the poverty-stricken transformed into a lot of demagogues, looters and plunderers, and elite oriented party for whom the prosperity and progress of the poor class was the last priority. Unfortunately, Bilawal carries that burden too. His words of apology don't matter much to the abandoned lot of old die-hard jiyalas as all they have witnessed for the past 7 years are the lofty promises and mighty-words. His apology will be accepted once he listens, lives, and loves the people, the poorer, and those for whom Zulfiqar Ali Bhutto derived the power.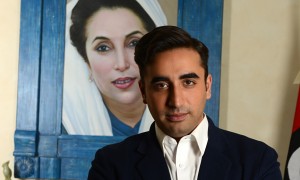 Bilawal Bhutto must realize that his grandfather's politics was totally opposite to his father's. His grandfather would cry his heart out while looking at the beggar's condition; his father turned blind eye to pauperized, his grandfather would travel to each village and do 'khulli-kachehri' to resolve common man's issues; his father only traveled abroad and didn't even visit the constituencies of his own party, his grandfather derived the power from the poor, illiterate yet spirited, and down-trodden masses and, thus, brought prosperity in such a short span; his father derived power from the corrupt politicians and festered bureaucrats to remain in power. As the result, Bilawal's grandfather remained enlightened in the hearts of the masses even after he was hanged in the early years of his life and his father remains blighted among the masses even after completing his government's term successfully. So, Bilawal needs to be clear as to what he wants to be like, as the grandfather or his father. The path of Zulfiqar Ali Bhutto is thorny one full of ups and down with no surety of power but the people's support, love and affection will be inevitable. However, the path his father took is an easy path assuring riches and luxury but the people's politics will die forever as it has already done. People's hatred and derision will crush him forever.
Bilawal Bhutto is in-experienced as compared to his grandfather when he began his political career. He lacks the worldly experience of local and global politics and that poses a great challenge to him. Moreover, Bilawal Bhutto is surrounded by a lot of expeditious politicians and prick advisers who stand corrupted intellectually and morally. it is evident from history that Zulfiqar Ali Bhutto's downfall began once he started listening to the wrong people with no political acumen and abandoned an intellectual lot of people. So, Bilawal must be cautious of that otherwise his political career for the masses and by the masses will remain a dream unfulfilled for him, then, he will never be able to match his grandfather in the political arena.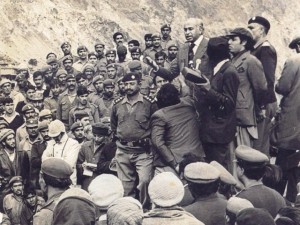 The numbers of dejected PPP leaders like Safdar Abbasi have attached high hopes from him. They have openly asked him to refrain from his father's politics. Bilawal has claimed the jalsa of 18th October will make it clear that PPP is still alive in the hearts of the people. Bilawal Bhutto should be aware that jalsas are the norm in Pakistani politics these days, almost every party pulls off the bigger jalsa than the other and PTI has been doing it almost every day. Though the party's stature amongst the masses can be seen through the jalsas, the real support that ensures the power comes through electoral performance. And, Bilawal must be aware of PPP's miserable performance in the last elections. Bilawal Bhutto's success in politics depends much on his understanding of the importance of 'good governance' and 'deliverance'. People's understanding of socio-political issues have increased thanks to technology, media, and changed dynamics in society. They want to see the change in real before giving votes to any party. With more than 40% of people living the poverty line, people want to see the change for good in their lives and Bilawal can capitalize on their demands by affecting the good governance in Sindh where his party is in Government.
The jalsa of 18th October will be interesting to watch. The eloquence of Zulfiqar Ali Bhutto is expected to reflect in Bilawal's speech. I hope, he talks about self-accountability as the policy to begin his politics with. I hope he accepts all the challenges of practicing true people's politics and the repercussions of doing so. It may not ensure him the power and the government in the long term but garner him the permanent place in people's hearts. This is what his purpose, aim, and ambition should be, after his entire grandfather's politics was about the 'people' solely, not for 'Peoples Party'.