With the impressive musical talent emerging in Pakistan, in the past, recent months Pakistani music industry has produced several great young singers, who are on the road to conquering the musical world with their voices.
Among all the debutants, Shae Gill found her place in the heart of the audience and made her way towards success. Since the day she made her big debut track on Coke Studio in the collaboration with Ali Sethi things have gone way beyond her expectations and she became a mega-star overnight.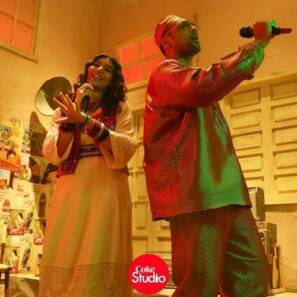 After Ali Sethi, she got the opportunity to collaborate with another one of the biggest singers in our industry Atif Aslam that made it to the headline.
And now she's back with another project in which she partnered with none other than Bilal Maqsood who has started his solo musical journey and till now it's going so far so well.
Bilal Maqsood & Shae Gill together for an upcoming project.
Bilal Maqsood shared the whole news about his latest project 2.0 with the selfie click him and Shae Gill. He also expressed his experience working with this young gem.
Bilal took the matter to his Twitter account, where he posted with the caption "It was wonderful working with Shaegill on my latest project (2.0) Can't wait to share it with you all!"
Shae Gill is climbing the ladder gradually to become a big star, but she's totally on the ground due to his upbringing.
The Pasoori girl last year sat down for an interview, shared her Coke Studio journey and the way her life changed after Pasoori.
She shared, "When Coke Studio asked me to sing for them, I just said, 'Thank you.' I wasn't excited right off the bat. I couldn't believe what had just happened. It took me a while to digest it."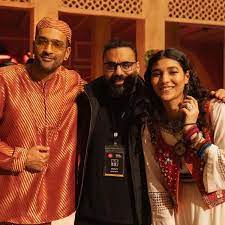 She also shared, how the producer Xulfi managed to discover me on Instagram, "Coke Studio producer Zulfiqar Jabbar Khan (Xulfi) found my Instagram page and checked out my singing. He liked my songs and later contacted me via direct message, saying, 'I want you to sing for Coke Studio.' The rest is history."
Being a celebrity isn't easy recently she found herself in deep boiling water when she prayed for deceased 'non-Muslim' Indian singer Sidhu Moose Wala.
But she replied to such messages bravely and wrote "I've been getting a lot of such messages. Just wanted to inform everyone that I am not a Muslim. I am a Christian, belong to a Christian family, and can make prayers for people from different religions."
What do you think of the story? Tell us in the comments section below.