Bilal Maqsood, a well-known Pakistani singer, recently turned to Twitter to address the matter of fake accounts imitating his father Anwar Maqsood, the famed writer and comedian Anwar Maqsood. Bilal expressed concern about his father's safety as a result of such fraudulent acts in his tweet and requested his followers to report the fake account.
Bilal Maqsood Requests To Report Fake Anwar Maqsood Accounts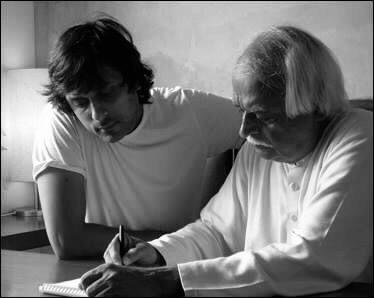 "[My father] does not post anything on social media," the musician continued. His actual account only has three posts. We created the account in order to report all of the bogus ones." Prior to this, when the experienced comedian joined Twitter, he posted two videos to prove the legitimacy of his account and combat phony accounts. In the first video, he addressed the impersonator 'Anwar Maqsood' directly, announcing his presence on Twitter and asking his fans to report any additional accounts pretending to be him.
However, the video was eventually published on all of the phony accounts, increasing confusion and making identifying the genuine profile difficult.
These kinds of fake tweets only put my Abbu's life in danger. This guy has already blocked me. Please can you all report this account. Abbu does not post anything on social media. His actual account has only 3 posts. We made that account so we can report all the fake ones. pic.twitter.com/BP5G749sEy

— Bilal Maqsood (@bilalxmaqsood) July 19, 2023
Despite this, the well-known television host Anwar Maqsood was keen to clear up the confusion. To dispel the mystery surrounding the genuine account, he posted another video in which he openly specified his personal account's username, AnwarMaqsood01. He informed his followers that any other accounts holding his identity were fake, and he urged them to report those fakes if they truly cared about him.
This is my official account. I request you to report all other accounts that are impersonating me.
Thank you. pic.twitter.com/2qTXtCZJ6n

— Anwar Maqsood (@AnwarMaqsood01) June 7, 2020
The issue of fake profiles using the writer's name to express political views was brought to light by a video posted on social media by a user. The Pride of Performance winner stated in the video that he does not operate any social media identities and has no association with the tweets posted under his name.
In order to emphasize his technological limits, he joked about carrying an ancient phone that couldn't send messages effectively. He apologized to people who were harmed by the bogus tweets and repeated that he had nothing to do with them, as well as any political views ascribed to him on social media.
The event highlights the widespread problem of internet impersonation and bogus accounts, which can endanger public personalities. His family's and supporters' attempts to uncover and report these phony profiles highlight the necessity of cybersecurity and alertness in the digital era.
What do you think of this story? Let us know in the comments section below.