Don't make your heart skip a beat right now because there is a lot to this story. So, hold on and just a suggestion don't get confused with the wrong Bilal. Bilal Khan's journey to never-ending stardom started from his song "Bachana" which strikes a chord in the audience's heart. He always makes sure to nail his songs be it Umeed, Tou Kia Hoa, Larho Mujhey, Mata-e-Jaan and the list goes on. His songs have made it to the everyone's playlists who really have a good taste in music. And recently, he stunned everyone by showcasing his phenomenal acting skills in the Hum Tv drama 'Sammi'.
None of us can imagine him leaving the world at such a young age, but hard luck for him, as he was recently declared dead by a local newspaper. Bilal Khan became the victim of a fake news published by 92 News in their article which was titled "Pakistani artists who passed away at the peak of their careers" the list included Nazia Hassan, Amjad Sabri, Qandeel Baloch and actor Bilal Khan who passed away in 2010, but accidentally, they put the picture of the wrong Bilal Khan which immediately created a buzz on social media and everyone went like "NAAAAHHHIIIIIII".
Plus, even Wikipedia showed him dead which made it even more depressing for all his fans. No one certainly wants a propaganda story turned into a reality.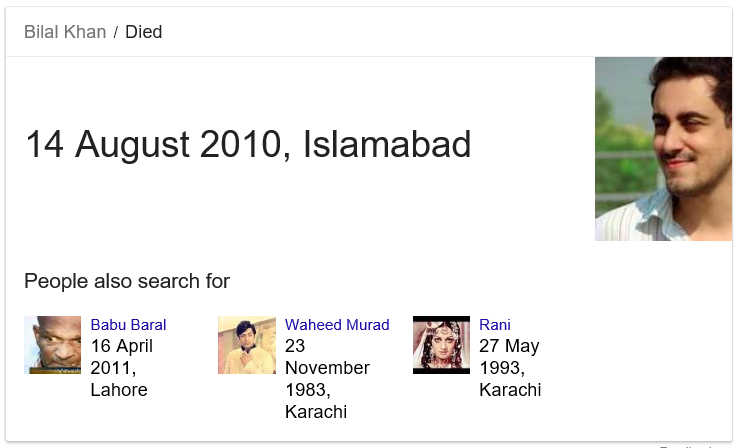 The singer, upon finding out about this fake news shortly tweeted that he is very much alive,  which at last made the audience calm their nerves:
An ultimate shocker for Bilal Khan
FAKE NEWS! 92 News is claiming I am dead. I am not. I repeat: I AM ALIVE ???? pic.twitter.com/3Kc0FAhxra

— Bilal Khan (@bilalkhan) August 20, 2017
After all, we are Pakistani's which is why we don't take anything seriously after 5 minutes so here is a glimpse of how the audience reacted to his fake death:
Ouch.
How can they do this to such a handsome guy !! This is NOT COOL ??☹

— Isabella (@princess1219121) August 21, 2017
Easy for him to say…
Hahha. There is a lot of content on the internet that says you're dead and as we all know the internet does not lie,
So Rest In Peace bro!??

— ??? (@usmanavaan) August 21, 2017
The guy was more concerned about Qandeel's age…
Lol if u read care fully they wrote that qandeel ki umer sirf 62 saal thi jab uski death hui ?????

— sajjad ahmed (@tweet_to_sajjad) August 20, 2017
Politics, politics everywhere!
Perhaps 92 is Upset as you ve not been featured lately in PTI jalsa with Larho Mujhey ??

— Asad Ali (@AsadFactor) August 20, 2017
Looooool…..
@minahilpu dekha m kitni videos m dekha jidr isko mardiya tha m qasmy magfirat ki duain krny lg gai thi toba ??? shukr h zinda h

— Sadia (@Sadia676767) August 20, 2017
Oops! There you go!
It was a dead man performing….. pic.twitter.com/3tUVfcxFxa

— Zen (@exmedjay) August 21, 2017
A thought to ponder over…
https://twitter.com/aliidurrani/status/899344974743035905
Maybe?
I guess @bilalkhan account has been hacked

— Shaikh Sahab (@ShaikhSahaab) August 20, 2017
How could anyone even dare to say that he is dead? Let us know about your reaction when you got this news in the comment section down below and don't forget to tell all your friends about it.