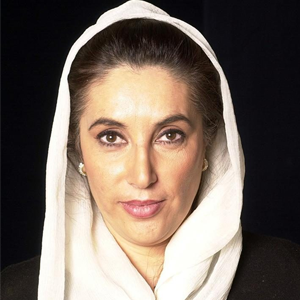 Biography
Benazir Bhutto was the eldest daughter of the famous politician Zulfikar Ali Bhutto, Pakistan's leader and president from 1973 until 1977. She received higher education from Harvard University (B.A., 1973) and pursued political, science, philosophy, and economics at the University of Oxford (B.A., 1977).
Fact‌ ‌File‌ ‌ ‌
Birth‌ ‌Date‌

June 21, 1953

Death Date

December 27, 2007

Birth‌ ‌Place‌

‌–Karachi, Pakistan  ‌

Age‌

‌–‌ ‌54 in 2007 

Father

– Zulfikar Ali Bhutto  

Mother

– Nusrat Bhutto 

Marital‌ ‌Status‌

‌–‌ Married 

Husband

–‌ Asif Zardari 

Children

– One Son, Two Daughters 

Son

– Bilawal 

Daughters

– Bakhtawar and Aseefa 

Nationality‌

‌–Pakistani‌ ‌

Religion

–‌ ‌Islam‌ ‌ ‌

Known For

– First Female Prime Minister 
Benazir Bhutto, a famous Pakistani female leader, was actually the first democratically elected female leader of a Muslim country and lived an unrestrained life that finished over with her cruel murder. She is the daughter of Pakistan Peoples Party (PPP) founder and Prime Minister Zulfikar Ali Bhutto; Bhutto took over as head of the PPP in 1982. After her two periods as prime minister in the 1990s. Ended in early amid corruption charges, she spent more than a few years in outcast in London. But after she returned to Pakistan with a plan to participate in the upcoming general election of the year 2008. But unfortunately was killed during an attack at a PPP rally in late 2007
Early Life
Benazir Bhutto was born on 21st June 1953 in Karachi, Pakistan, the oldest child of former prime minister Zulfikar Ali Bhutto. She was getting into the Pakistan People's Party and served as the nation's prime minister from 1971 to 1977) After finishing her early education in Pakistan, she followed her higher education in the United States. Bhutto joined Radcliffe College from 1969 to 1973 and then registered at Harvard University upon graduating with a Bachelor of Arts degree in comparative government. It was then onto the United Kingdom, where she enrolled in Oxford University from 1973 to 1977, completing international law and diplomacy.
Leader of the Pakistan People Party (PPP)
Benazir Bhutto came back to Pakistan in 1977 and was retained under house arrest later; the military coup directed by General Mohammad Zia ul-Haq overthrew her father's government. A year later, Zia ul-Haq became the president in 1978, the leader Bhutto was hanged after his verdict on charges of sanctioning the murder of an opponent. She has been inherited her father's leadership qualities and the party PPP as well.
More family tragedy occurred in 1980 when Bhutto's brother Shahnawaz was killed in his apartment on the Riviera in 1980. The family claimed that he was poisoned, but no charges were taken on that account. One more brother, Murtaza, was died in 1996 (while his sister was in power) in a gun battle with the Karachi police.
She moved to England in 1984, remain the joint leader in exile of the PPP, then came back to Pakistan on 10th April 1986 to takeoff a countrywide campaign for upcoming elections.
Personal Life 
She got married to a wealthy landowner, Asif Ali Zardari, in Karachi on 18th December 1987. They had three children in total, a son Bilawal and two daughters, Bakhtawar and Aseefa.
Pakistan First Female Prime Minister 
Zia ul-Haq's dictatorship finished after he was killed in a pre-planned plane crash in 1988. And Benazir Bhutto was voted as the prime minister hardly three months after delivering her first baby. She became the first-ever feminine prime minister of Pakistan, a Muslim nation, on 1st December 1988. Benazir Bhutto was defeated in the 1990 election and found herself in court protecting herself from several misconduct charges while in the office. Benazir Bhutto continued to be a noticeable focus of opposition restlessness and she won an additional election in 1993 but was again replaced in 1996.
Being in self-imposed exile in Britain and Dubai, she was sentenced in 1999 of dishonesty and penalized to three years in prison. She continued to direct her party from overseas, being reaffirmed as a PPP leading light in 2002.
Benazir Bhutto, after returning to Pakistan on October 18, 2007, after President Musharraf granted her official pardon on all corruption charges, opening the way for her return and a possible power-sharing agreement.
Unfortunately, Benazir Bhutto's homecoming gathering (a rally) after eight years in exile was hit by misfortune a suicide attack, killing 136 people. She only lived after ducking down at the moment of impact behind her armored vehicle. Bhutto said it was Pakistan's "blackest day" when Musharraf imposed a state of emergency on 3rd  November 2007 and threatened to bring her supporters to the streets in mass demonstrations. Benazir Bhutto was placed under house arrest soon after, on November 9, and called for Musharraf's resignation four days later. The state of emergency then lifted in December 2007.
Assassination
Benazir Bhutto was killed when a hired gunman fired shots and then blew himself up with a bomb blast after an election campaign rally in Rawalpindi on 27th December 2007. This attack also killed 28 others and wounded at least another 100. The attacker struck just a few minutes after Bhutto addressed a rally of thousands of supporters in Rawalpindi's garrison city, eight miles south of Islamabad. She expired after hitting her head on the spot on the part of her vehicle's roof—not due to shots or shrapnel, a spokesman for Pakistan's Interior Ministry said. President Musharraf said that he had asked a team of detectives from Britain's Scotland Yard to investigate Bhutto's killing.
Hundreds of thousands of funeral-goers paid their last salutations to former Pakistani Prime Minister Bhutto on 28th December 2007. She was buried at her family's resting place in Garhi Khuda Bakhsh, the southern province of Sindh. She was buried beside her father Zulfikar Ali Bhutto, Pakistan's first popularly elected prime minister executed by hanging. Bhutto's husband, Asif Ali Zardari, her three children, and her sister, Sanam, joined her burial. Soon after Benazir Bhutto's death, Pakistani President Pervez Musharraf announced three days of grief and sorrow because of the loss.
The gunfire and bombing attack on the compelling former prime minister rushed Pakistani into chaos. Pakistan is armed with nuclear-powered weapons and is the leading U.S. supporter in the war on violence. Furious supporters rioted through several cities, burning down cars, trains and markets in violence that left at least 23 dead. On January 2, 2008, Pakistan's election commission announced that parliamentary elections would be postponed until February 18—a delay of six weeks. Benazir Bhutto reportedly planned to give two visiting American lawmakers a 160-page report accusing the Musharraf government of taking steps to rig the January 8 vote.
Asif Zardari Got Elected After Benazir Bhutto 
In Pakistan, it is common to hear people accuse Benazir Bhutto's widower Asif Zardari of having organized the assassination. This claim is typically based on the reflection that since he became president right after her death, he was the one who benefited most.
The conspiracy theorists, on the other hand, have not made a particular bit of evidence to indicate that Asif Zardari was in some way involved in his wife's murder. He has denied the accusation in the strongest possible terms. Individuals who make the accusation, he said, should "shut up."
Asif Zardari faces another allegation: that even though having the presidency's powers, he failed to properly examine his wife's murder. Secret official's documents relating to the examination and attained by the BBC show that the police inquiries were so under the weather managed to suggest they never needed to find guilty parties beyond the low-level schemers they had already arrested.
The police investigations' inadequacies were especially obvious after an unsuccessful attempt on Bhutto's life on 18th October 2007 – two and a half months before being killed. Two suicide bombers attacked her party and killed more than 150 people. It remains one of the deadliest assaults ever fixed by violence breakers in Pakistan.
The police work was so half-hearted that the bombers were never even identified.
The lead of the inquiry program, Saud Mirza, has said that one man he recognized to have been a bomber had distinguishing features, suggesting he came from a long-standing but small Karachi-based community of people of African descent. This potentially significant clue about the identity of the suspected bomber was never released to the public.
Former President Zardari responds to criticisms about the thoroughness of the police work by pointing out that he encouraged Scotland Yard's position concerning the murder and secured the appointment of a UN commission of inquiry to inspect the circumstances of her death. That inquiry, conversely, says it was recurrently and deliberately blocked not only by the military but also Zardari's ministers. 
"There were many people in the establishment that we wanted to interview, but they refused," 
said Heraldo Munoz, the UN commission head. And he said some of the difficulties came from the political personnel as well as the military. As the investigation proceeded, he said, the UN team's safe house was withdrawn, as were the anti-terrorist personnel who were defensive of the UN staff.
Legacy
Numerous universities and public constructions in Pakistan have been entitled after her. The Pakistani government honored Benazir Bhutto by;
Renaming Islamabad's airport Benazir Bhutto International Airport, 

Muree Road of Rawalpindi as Benazir Bhutto Road 

Rawalpindi General Hospital as Benazir Bhutto Hospital.
Former Prime Minister Yousaf Raza Gillani, a member of Bhutto's PPP, asked Musharraf to pardon criminals on death row on her birthday in honor of Bhutto. Numerous months after Bhutto's death, a series of Pakistani postage stamps were declared to mark her 55th birthday.
She left a life long legacy for upcoming leaders and women to learn the lesson and be consistent with the goal till the last breath.