Supermodel Bella Hadid joined a pro-Palestine march in New York City on Saturday. Protesters took to the streets of Bay Ridge in Brooklyn to support Palestinians amid the continuing Israel's terrorism in Gaza.
Hadid joined scores of protesters that rushed to the streets of Bay Ridge in New York City while wearing a traditional dress, a Keffiyeh, and a face mask.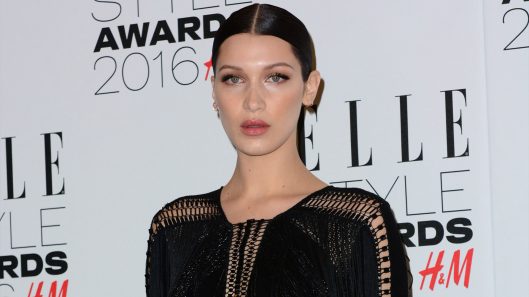 She also carried the flag of her country of origin, Palestine.
'Free Palestine' protests
People are protesting worldwide including London, Pakistan, Germany, Paris, Turkey, the US, Canada, and South Africa, etc for Palestine. A huge number of people from all walks of life, religions, and nationalities united in solidarity with the Palestinians. They demanded an end to the Israeli airstrikes, which have killed over 192 civilians so far. Pakistanis are taking a lead in supporting Palestine on social media as well. 
The 24-year-old Hadid uploaded a post previously, of a protest she attended four years ago, saying "it has always been free Palestine. Always."
Hadid's father also shared the pictures of his daughter from the protest on social media.
A chant upsets Israel
Israel is clearly shaking by the response the world is now giving to its atrocities in Palestine. The Israeli state wrongfully slammed Hadid for making this an "Israeli-Palestinian" issue, when in reality it should be a "human issue".
"Shame on you," said the post.
They claimed Hadid was chanting, along with other protesters, to "throw the Jews in the sea". Israel who is bombing innocent Palestinian men, women, and children inside their homes, is hurt by a chant. A chant that wasn't even made.
"Where does she say this?" asked a user. "Second 22," replied the Israeli state account.
Actually, when you go to that markyou'll know no one chanted for Jews to be thrown anywhere. "From the river to the sea, Palestine will be free!" is the chant.
Guardian and BBC journalist Hicham Yezza hit back at the account and said, it is "deliberately promoting a vile and outrageous lie."
Israel, you are scared, simply scared. Rest assured, the world is fighitng Palestine case correctly. InshALLAH, Palestine will be free, soon.
Meanwhile, Palestinian-American Gigi and Bella Hadid, and Mo Salah have earlier also rejected silence on Israeli terrorism in Palestine.
Moreover, the death toll in the territory now stands at 198. Besides, 58 children and 34 women, with 1,230 injured, according to officials.
What do you think of this story? Let us know in the comments section below.