Palestinian-American supermodel Bella Hadid on Monday claimed she was "shadow-banned" by Instagram for posting about Palestine, just hours after Israeli authorities attacked worshippers at al-Aqsa Mosque.
"My Instagram has disabled me from posting on my story – pretty much only when it is Palestine based I am going to assume," Hadid wrote on her Instagram story. "When I post about Palestine I get immediately shadow-banned and almost 1 million less of you see my stories and posts."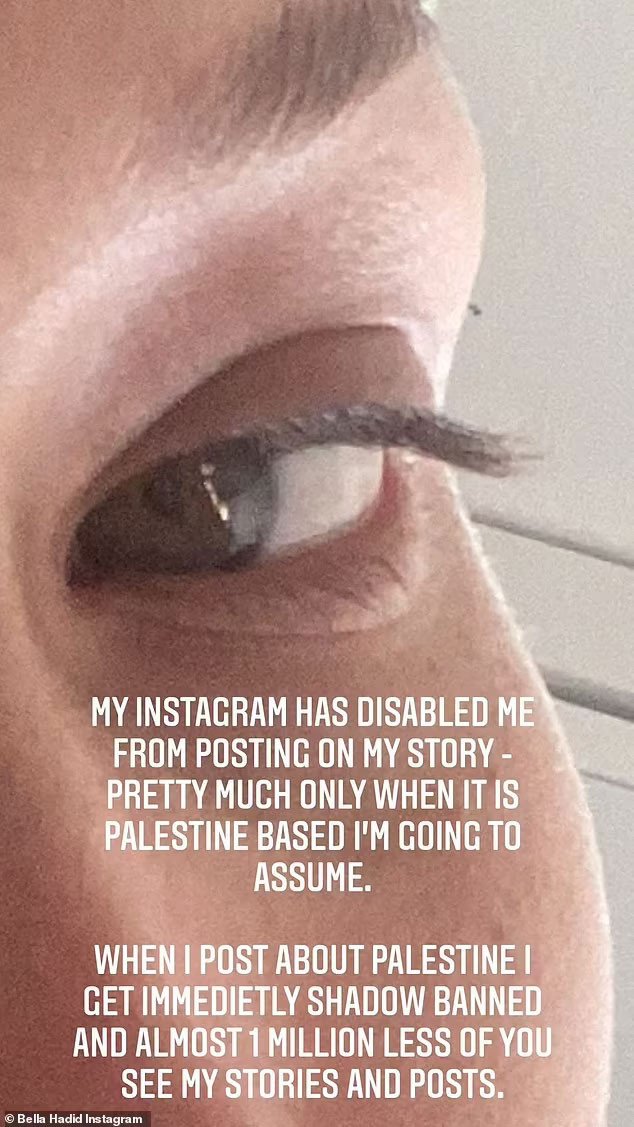 In a subsequent post, Hadid posted a screenshot of what appeared to be an attempt to re-post a video of an Israeli officer assaulting an elderly Palestinian man. "Won't let me repost… for 2 hours now," she captioned with a crying emoji.
The supermodel, who has long been a vocal supporter of the Palestinian cause, went on to share her views on the incessant violence in Jeruselum. Hadid share a clip that appeared to show the Israeli army at the Al-Aqsa mosque in Jerusalem.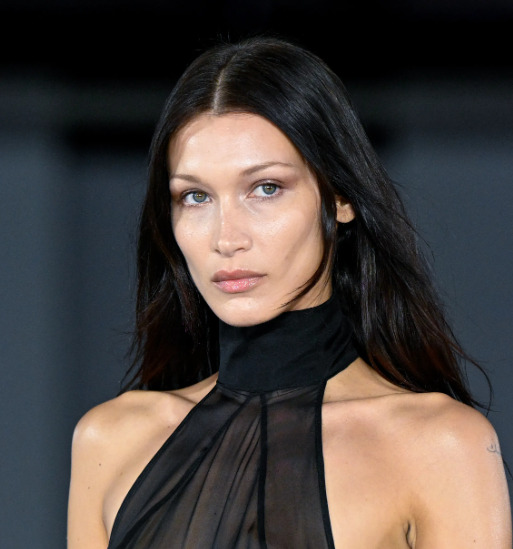 "Posting this video directly after," Hadid wrote. "Let's be reminded that this land is some of the Holiest soil in the world. Where Jesus was born. Where every religion has a place to call home. To pray. To be. To live. (Not at all safe as you can see.)"
"With mosques, synagogues, churches," she added. "But to do this to only one group, during prayer on the holy month of Ramadan is just truly sick in the head."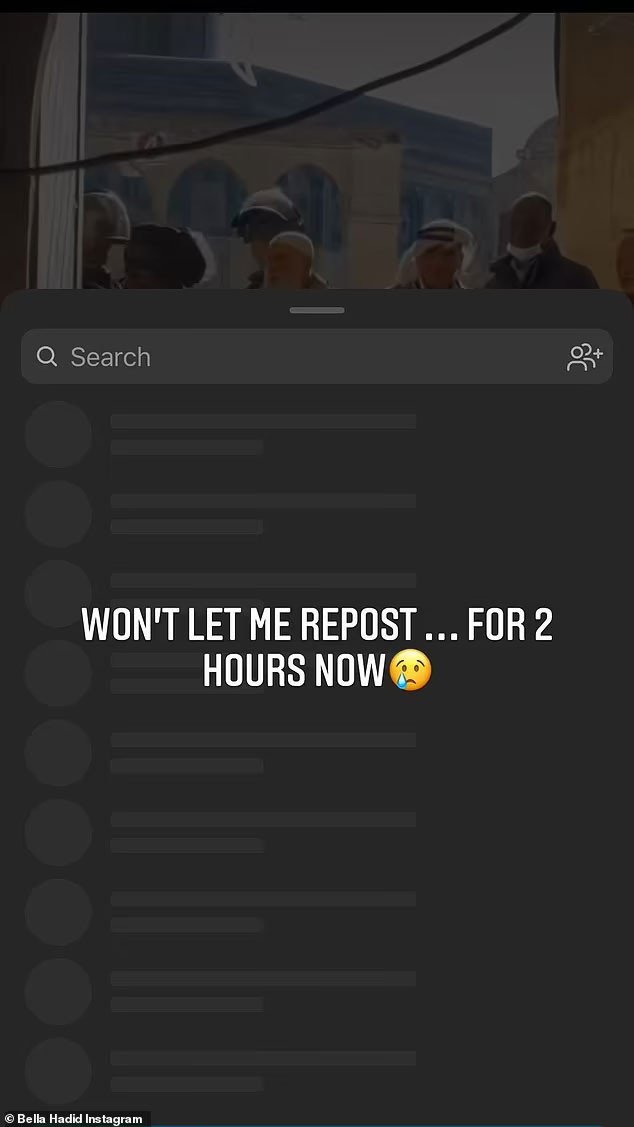 Restriction posts about Al Aqsa raid
In a separate Instagram Story, the model said that she was 'trying to re-post from Eye On Palestine all day,' and had penned 'long messages' about were 'the only ones that are not uploading'. Hadid shared multiple frames of posts that did not appear to be uploaded to her Instagram Stories despite her attempts.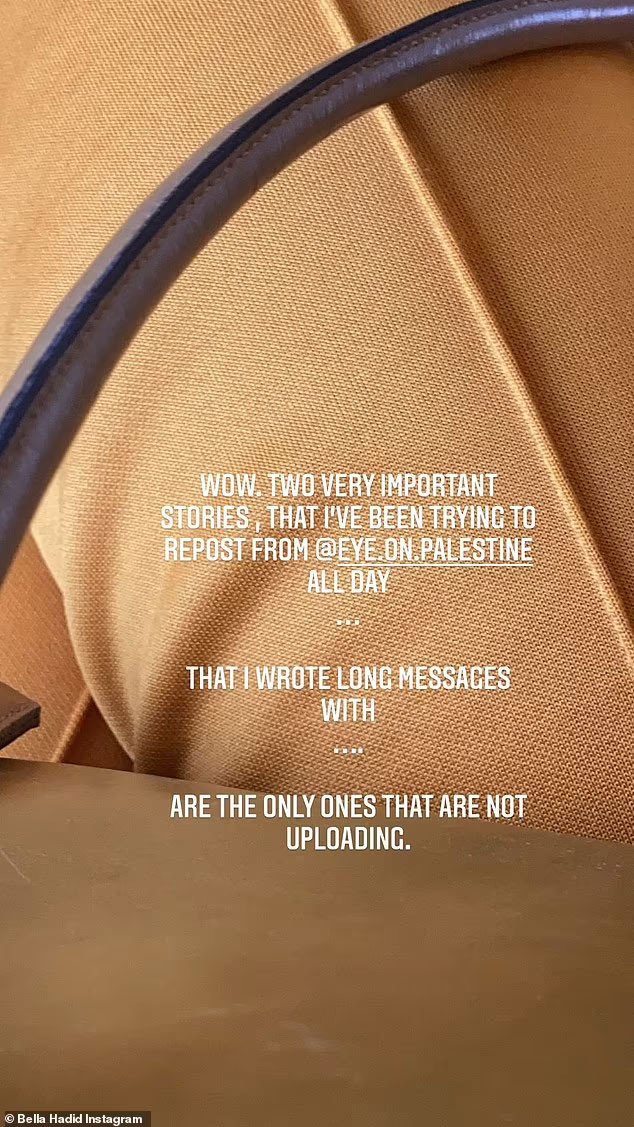 She also shared news headlines, reposts from other social media accounts, and a number of videos, some featuring sensitive content, as well as screen grabs showing messages from Instagram saying: "Upload failed. Try again".
Israeli police raided the Al-Aqsa Mosque compound in occupied East Jerusalem on Friday, injuring at least 153 Palestinians in one of the biggest escalations in Jerusalem since the holy month of Ramadan began.
Israeli police reportedly entered in force before dawn on Friday, as thousands of worshippers were gathered at the mosque for early morning prayers. Videos circulating online showed Palestinians throwing rocks and police firing tear gas and stun grenades. Others showed worshippers barricading themselves inside the mosque amid what appeared to be clouds of tear gas.
Read More: Israel Burns After Supermodel Bella Hadid Dons Traditional Dress & Joins 'Free Palestine' March
What do you think of this story? Let us know in the comments section below.