The unfortunate incident that took place in Beirut, Lebanon, has seen an outpour of condolences from around the world. Over 2700 tonnes of Ammonium Nitrate blew up due to unforeseeable causes. The blast resulted in a huge loss of life, along with the destruction of Beirut's port. A Lebanese man told how he became a survivor of the deadly Beirut blast.
The Beirut blast was caught on many different cameras, throughout the city and many Lebanese survivors as well. This is what made people realize the grave strength of what had happened. However, there's much more to what happened in Beirut that meets the eye. A man from Beirut, who was affected in more than one way, spoke on how the blast has changed his life.
This is what Omar Itani had to say:
"Yesterday I lost a lot, my car, my house, my phone, one of our shops. The shop was inaugurated less than three months ago, we have poured hundreds of hours of work into the shop and invested thousands and thousands of dollars. Since its opening, the shop has been doing tremendously well and became one of the city's fashion landmarks. Today the shop is only a memory nothing remains, all vanished in a second.
Most importantly, yesterday I lost my city, we lost the Beirut we know. Hundreds of my Neighbors in Armenia street were slaughtered. The street is one kilometer away from the explosion site. Apocalyptic scenes. Don't believe what they say, hundreds have been lost.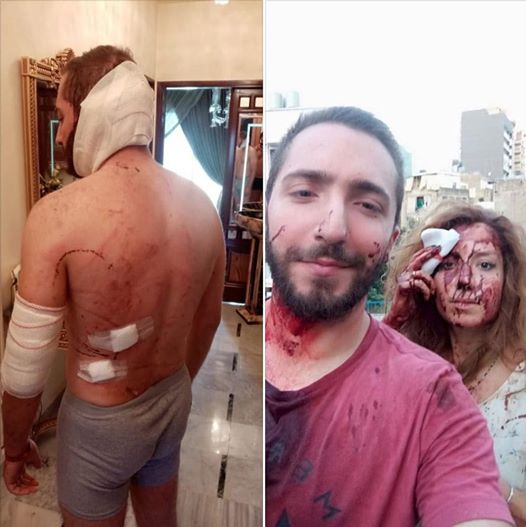 I was at the shop alongside Sally Khadra, a friend and colleague. Sally, without a doubt, is the strongest, most humble, and energetic person I know. During the toughest times, she was smiling and cracking jokes. I was not supposed to be at the shop but I am very happy I was along your side, Sally. Seeing pictures of the shop now, I am honestly puzzled by how we made it out walking, we were incredibly lucky.
Sally and I had to move across 4 hospitals, a loving home, and a pharmacy to be finally and fully treated. Tons of gratitude to Doctor Hiba Hajj at Mount Lebanon Hospital who spent hours stitching me (At least more than 100 stitches). Doctor Hiba just came back to Lebanon after three years of studying in Paris. Her contract was not signed yet, officially she was still off duty but she insisted to volunteer after the explosion.
Tons of gratitude to pharmacists Juslin in Fayadeyeh who spent more than two hours picking out the glass from my back and head. In addition, tons of gratitude to the random gentleman from the civil defense who picked us up on his bike from the Gietawi and took us to Saint George University Medical Center.
Tons of Gratitude to the Kossaifi Family, Hussam Hanouni, and Jad Bacha who couldn't be any kinder and more caring. People like the ones I mentioned are why we should continue to fight. There is so much love, kindness, and compassion in this city.
There is so much to fight for. Today for me is a normal working day, there is too much to be done. Looking forward to rebuilding, progressing, and moving forward while punishing all those responsible.
WATCH: Survivors recall the moment of Beirut blast
Just after leaving the building to the utterly destroyed Gemmayzeh area, I heard people praising and calling for God, I heard people cursing God, but I heard nothing from God."
Omar Itani's story is just one out of thousands of Lebanese survivors who have been affected by the Beirut blast. Here's to praying that God Almighty eases the pain of affectees and gives them the strength to come out of what they've been through. Did you know, the Simpsons predicted the fatal Beirut blast as well?
What do you think about this story? Let us know in the comments below.