One of the most tragic incidents of 2020 was captured on camera yesterday, when a blast occurred in the port city of Lebanon, Beirut. While also being the capital, Beirut is home to hundreds of thousands of Lebanese people. Now, this Beirut blast is being termed as a conspiracy by israel.
Almost 2700 tonnes of explosive material caught fire and wreaked havoc in Beirut, taking over 100 lives and injuring almost 4000 in the process. Consequently, the video of the incident was caught on multiple cameras, reminding the world of Hiroshima and Nagasaki.
With the investigation under process, the cause of the blast is still unknown. However, analysts and theorists have been keen on involving Israel in the process. One conspiracy theory suggests that the blast in Beirut was not one of chance, but a planned move by the Israel Defence Force.
As per this Twitter thread, Israel's IDF was behind the Beirut Blast. Here's what it says:
BEIRUT 🇱🇧 EXPLOSION THREAD 📎🖇️
It is too early to say what happened but the explosion site is just 4 miles away from the sites identified by IDF 🇮🇱 in 2018 as Hezbollah long-range precision-guided missile project infrastructure. Moreover, the Port is often labelled as (1) pic.twitter.com/6dqTYJhrE3

— Talha ahmad (@talhaahmad967) August 4, 2020
"Hezbollah Port". 🇮🇷 from years is trying to build Hard missile force across the region in order to encircle I🇮🇱 .It is unclear at the moment if it was part of Cyberattacks campaign or was it an accident. But Damages reported across 10 km in Beirut from point of explosion. (2) pic.twitter.com/rISflCSiNB

— Talha ahmad (@talhaahmad967) August 4, 2020
After analyzing the videos it is clear that there is a very high probability of explosives/ Fireworks present at the site of the explosion.
The port of Beirut has been completely destroyed in today's massive explosion. This is both 🇮🇷 & Hezbollah main economic lifeline. (3) pic.twitter.com/Qrfq135Waf

— Talha ahmad (@talhaahmad967) August 4, 2020
All Beirut hospitals are reportedly at 100% capacity. As per the Ministry of Health, 30 people died and over 2,500 are injured in today's explosion. Meanwhile, 🇮🇱 has offered Lebanon medical assistance following the Beirut explosion.
(4)

— Talha ahmad (@talhaahmad967) August 4, 2020
This picture from 2018, from IDF's official account, is also doing rounds on Twitter. Additionally, in the picture, IDF chalked out the same area where the Beirut blast occurred. It marks the exact same area and chalks out the explosive depot as well.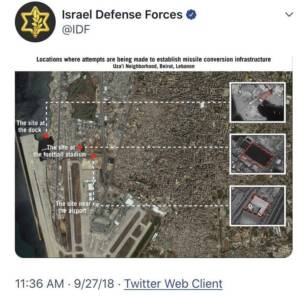 Not only this but only 10 hours before the blast in Beirut, the official account of PM of Israel, tweeted this:
Prime Minister Netanyahu:
"We hit a cell and now we hit the dispatchers. We will do what is necessary in order to defend ourselves. I suggest to all of them, including Hezbollah, to consider this.

— PM of Israel (@IsraeliPM) August 4, 2020
In addition, people have been finding the correlation between Benjamin Netanyahu's comments and the blast in Beirut, on how the two things are interlinked.
PM Netanyahu: "These are not vain words; they have the weight of the State of Israel and the IDF behind them and this should be taken seriously."

— PM of Israel (@IsraeliPM) August 4, 2020
Whatever the case may be, the blast is a tragedy that deserves condemnation along with numerous condolences. As for the majority, it is being believed that the blast is a bureaucratic blunder in Lebanon. Furthermore, over 2700 tonnes of explosive material was kept in Lebanon's port city, stored, for over 6 years. The explosives had been kept there since 2014.
Why wasn't the area cordoned off? Why wasn't the explosive material moved to a safer place? Keeping such harsh explosives in the center of the city with a population around, does it make sense?
Moreover, the Lebanese Prime Minister has vowed to punish the officials involved in the security of the depot. Ammonium Nitrate is a highly explosive material, and when the government already had knowledge of its rogue nature, more precautionary and safety measures should have been taken. As for now, the conspiracy theorists are enjoying their cup of tea involving Israel in the process of Beirut blast.
Here's what they've been saying
You are killer, we know you did bomb to beirut.

— hasan (@etin95444064) August 5, 2020
We all know, you were looking forward to this explosion. We know ,you had some internal information that nitrate was sitting in the port and you sent a spy to set it on fire and cause the explosion. You mofo fox. We are not stupid#Lebanon #Beirut #isreal #deathtoisrael

— 🏴Sonia Woodyard🏴 (@WoodyardSonia) August 5, 2020
I actually read some tweets from people that live in Lebanon. They said that Israel has been flying warplanes and drones over Beirut. I'd show you the tweets but I don't want you sticking the IDF on them

— 1uans (@2plus_juan) August 5, 2020
I have a feeling isreal's bloody hands are all over this tragedy. #Beirut #Lebanon #Mossad

— H.A. (@nothanks2me) August 5, 2020
To conclude, whatever the case may be, the incident is nothing short of an international tragedy. Our thoughts and prayers are with Lebanon and Beirut.