Students of Balochistan University on Thursday continued protests for the second day over the alleged abduction of two students. Student leaders called for a boycott of classes and examinations in all educational institutions.
Both the students — identified as Sohail Baloch and Safi Baloch — reportedly disappeared from the university hostel several days ago. They are residents of the Noshki district of Balochistan. According to The Balochistan Post, they were abducted from the university hostel.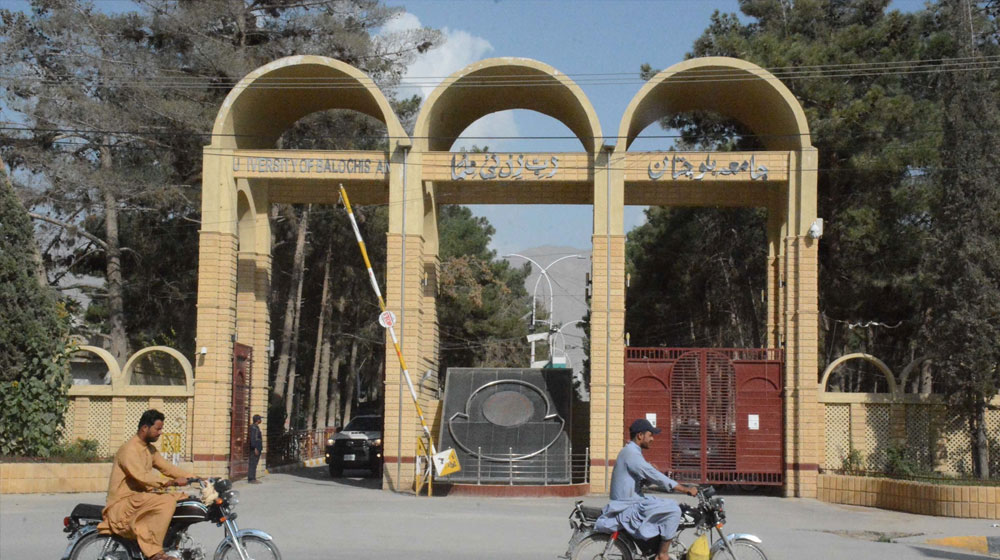 Students of Balochistan University have been staging a protest over the disappearance of the two fellow students for the past week. They have been demanding the safe recovery of fellow students. 
The protesting students on Tuesday locked the institution's gates, boycotted ongoing MA and MSc examinations. Additionally, they announced they would keep the seat of learning closed until the missing persons were recovered.
No student or teaching staff was allowed to enter the university premises by the protesting students.
Speaking at a press conference, the Baloch Students Organization (BSO) leaders Baloch Qadir and Zubair Baloch said that Sohail Baloch and Safi Baloch had been missing for the last several days. However, the university administration had taken no action in this regard, they added.
The apathy of the university administration had reportedly forced the students to launch a protest movement for the recovery of the missing students and lock the gates of the university.
"Our protest will continue till the missing students are recovered," they said.
All Baloch students demand recovery of missing students
After the Balochistan University, Baloch students in the Bolan Medical College, Degree College Sariyab, Polytechnic College, and the Science College also suspended their academic activities over the disappearance of students, reported The Balochistan Post. 
The students have demanded the safe recovery of the missing fellow students. In the press conference earlier, the student leaders alleged that the university administration is also involved in the disappearance of the students.
After the protests by the students over two missing students, the university administration in an official notification announced the suspension of all the academic activities starting from November 10.
The Baloch University students protested in 2019 against the harassment of female students by the university administrators. A few days later, the university's vice-chancellor resigned following allegations of harassment.
Story Courtesy: The Balochistan Post
What do you think of this story? Let us know in the comments section below.