Ever since Bakhtawar Bhutto Zardari tied the knot, we have all been in awe of her ivory-gold bridal dress, which shone brightly against the groom's regal ivory sherwani. The most asked question is: Was Bakhtawar Bhutto's wedding dress made with pure gold and diamonds? Well, let's find out!
After the main event, a reception was held at Bilawal House Karachi, where the bride was seen in a rather traditional dress, earning praises for promoting local craftsmen.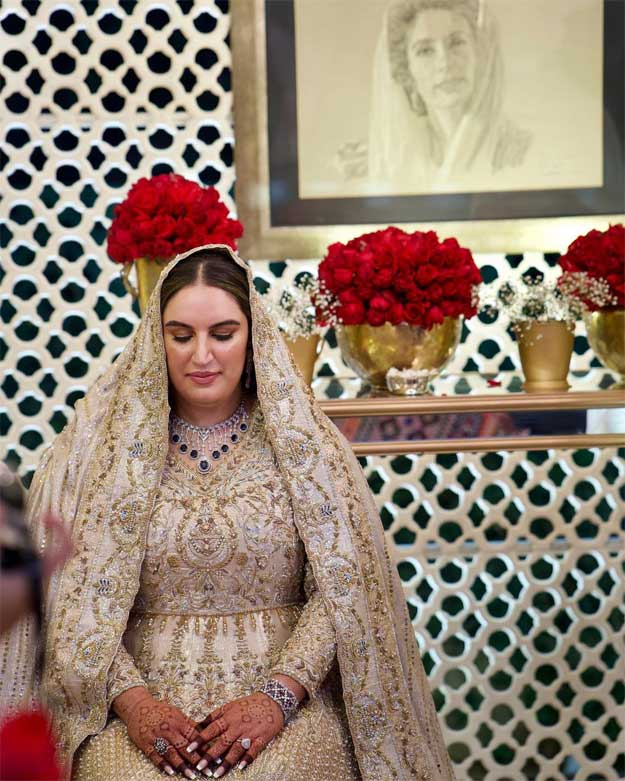 Bakhtawar and Mahmood exchanged rings on November 27, 2020, at the Bilawal House. And, since then there have been a lot of speculations about her wedding dress. However, these speculations were put to rest on Wednesday by designer Wardha Saleem.
In an interview with BBC Urdu, Saleem revealed that she used neither gold wire nor diamonds for Bakhtawar's dress. Instead, she used the best quality material from local markets in Pakistan.
Saleem decided to keep the outfit gold and ivory because Bakhtawar had told her that the late Benazir Bhutto also wore a white-and-ivory suit on her wedding.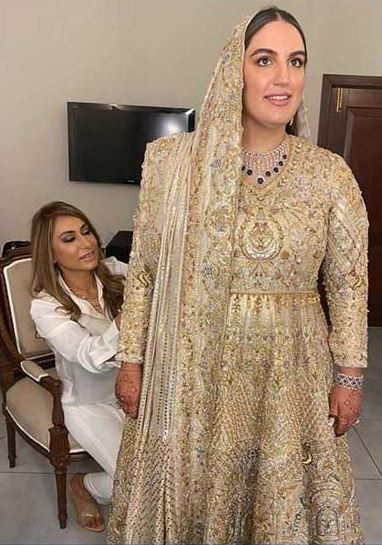 "When Bakhtawar approached us, she already had an idea about the kind of work we do," she said. "Because of her prior research on our designs, it was easy for us to figure out what she wanted."
Saleem said Bakhtawar's chiffon was handmade locally. "As a brand, we make use of the best local material [for bridal dresses] available in Pakistan," she said.
The designer took it to Instagram to clear the misconceptions
"No gold, no diamonds, only pure passion and attention to detail. We at Wardha Saleem create timeless masterpieces made from fine quality locally sourced materials. Our bespoke creations are a testament to the skill of our artisans and our ability to transform these materials into timeless heirlooms," the caption read.
In addition to this, in the interview, Saleem revealed that it took 45 craftsmen to work on Bakhtawar's bridal dress. They spent a massive 7,000 hours in making the dress. But no gold or diamonds were on Bakhtawar Bhutto's wedding dress.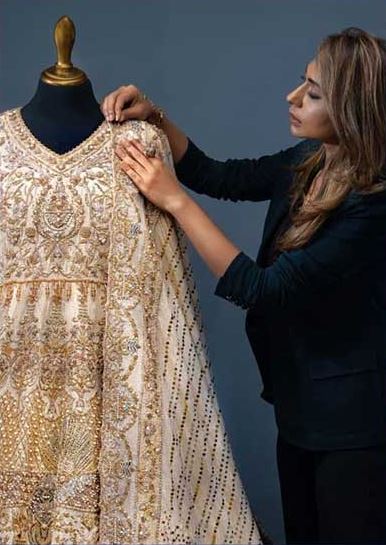 "The reason why this dress took so long is that it is handwoven and we used the finest material available. We worked on it for 7 months and for two to three months, we worked double 24-hour shifts," she added.
When asked whether she felt nervous about designing the dress for Bakhtawar's big day, Saleem said it was not true. "You can say we were excited and not under pressure," she said.
What do you think of this story? Let us know in the comments section below.