The eldest daughter of former prime minister Benazir Bhutto and former president Asif Ali Zardari, Bakhtawar Bhutto-Zardari on Friday tied the knot with UAE-based businessman Mahmood Choudhry. We gathered a few pictures to give you a sneak peek into the event!
Bakhtawar's nikkah was held at the Bilawal House on Friday, while the Barat is happening today (January 30). Moreover, her wedding celebrations started on January 24 with a Mehfil-e-Milad.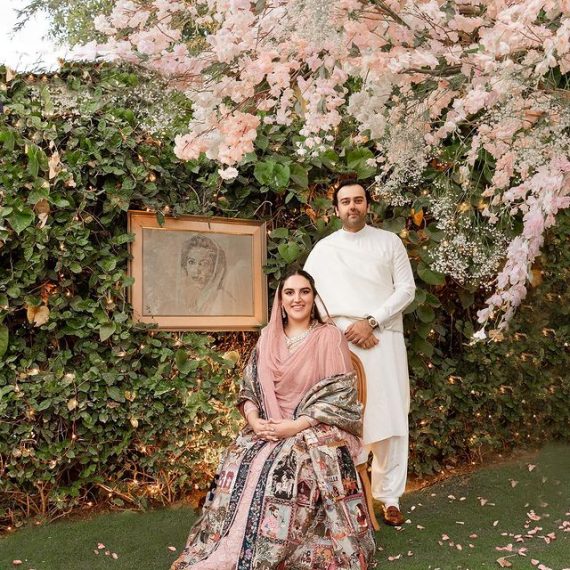 The 31-year-old, shimmering in a gold-speckled ensemble by Wardha Saleem, tied the knot in a daytime ceremony. She wore a beige and gold traditional dress with a subtle touch of contemporary. In addition to this, she also held on to a contrasting clutch with goldwork too.
On the other hand, the groom wore a classic and minimalist cream-colored sherwani on a crisp white Kurta with a complimenting white traditional 'kullah.' Meanwhile, Bilawal was seen stuck with his staple: shalwar kameez and a blazer.
In one of the pictures, Bakhtwar can be seen signing the nikkah documents in a traditional 'rasm' with an overstretched delicate dupatta adding to the glamour and shimmery magic of the bridal attire. The pictures also show Zardari in attendance.
Here is a sneak peek into the ceremony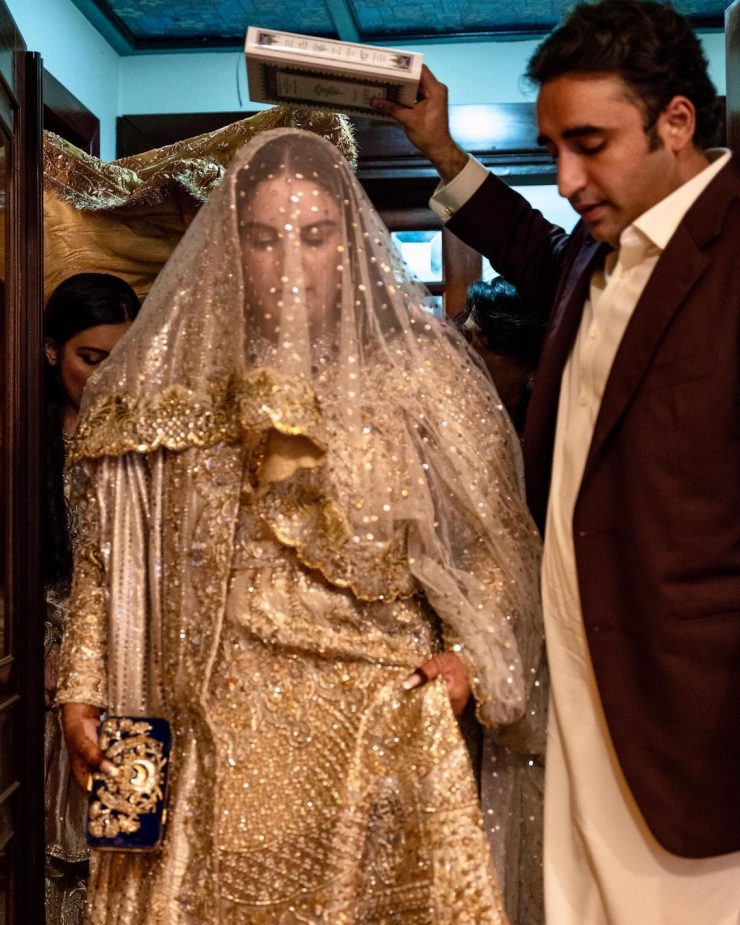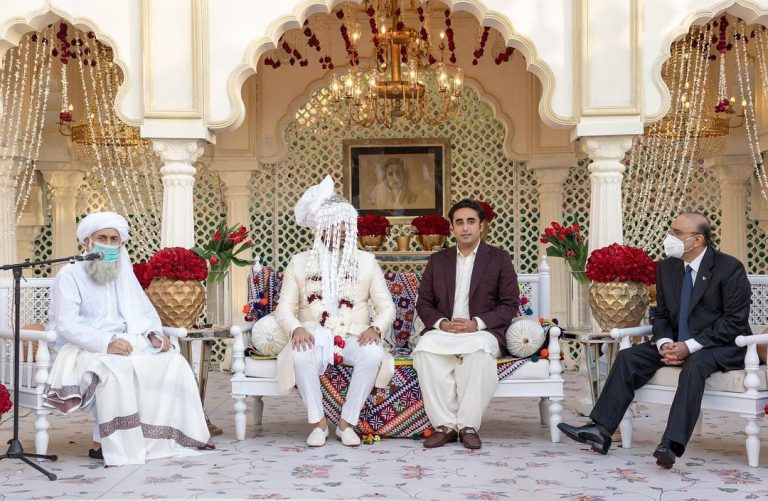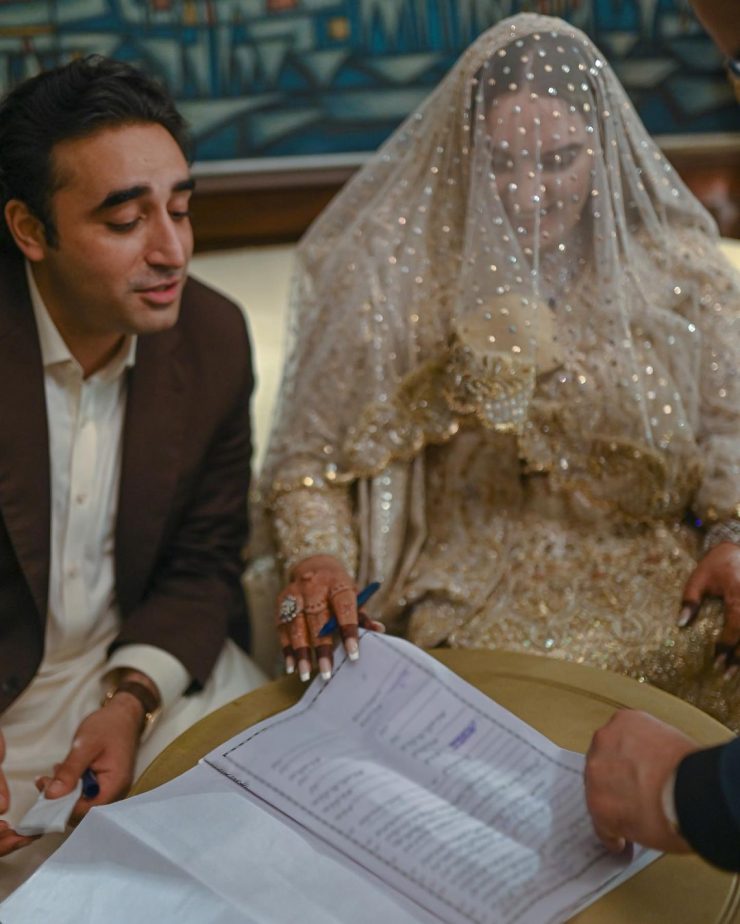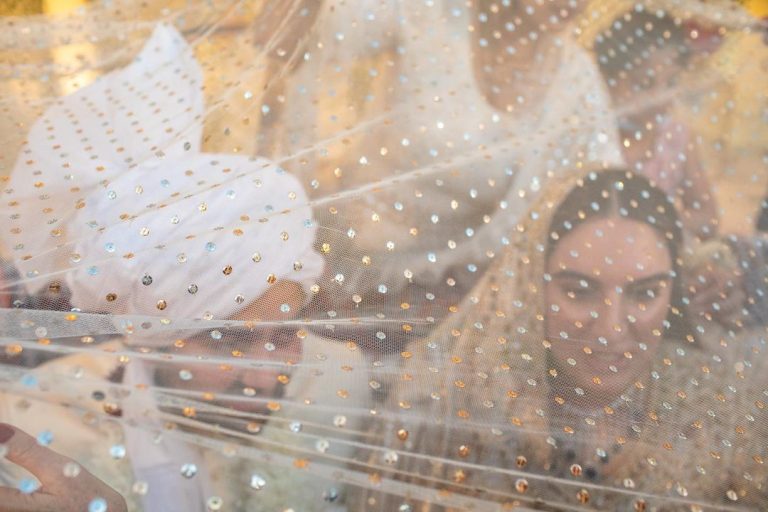 The bride's brother can be seen proud and beaming sitting with his sister signing the documents. As it appears, the rukhsati was traditionally set with Bilawal holding Holy Quran over his sister. Moreover, it seems like a blend of tradition and ritual. The ceremony was an intimate friend and family affair.
Taking to Twitter, PPP chairperson Bilawal expressed his happiness. He said that it was the "happiest moment in many years". In addition to this, he wished the best for the couple.
The youngest sibling, Aseefa, wished the couple "a lifetime of happiness and joy" on their new journey. "I love you, my dear sister. I wish you a happy married life," she wrote.
A brief statement issued by Bilawal House said that they expect some 300 guests at the baraat function due to the standard operating procedures related to Covid-19.
Two days earlier, an elegant mehndi ceremony also took place at Bilawal House. Wherein, Bakhtawar got a beautiful henna design of Ajrak applied on her hands.
It is pertinent to mention that Bakhtawar Bhutto and Mahmood exchanged rings two months ago on November 27, 2020, in an intimate ceremony and now tied the knot. That too took place at the Bilawal House where a limited number of people were invited to the event.
What do you think of this story? Let us know in the comments section below.