A tragic incident recently took place in Bahawalpur, Pakistan which shook a majority. An oil tanker carrying 40,000 liters of fuel, crashed on a street in Pakistan on Sunday and around 145 individuals, a large portion of whom had raced to gather spilling fuel, were killed when it detonated, clearly after someone had lit a cigarette, authorities said.
The tanker toppled on a sharp curve on a roadway on the edges of the city of Bahawalpur when the driver lost control once the vehicle blew a tire, a provincial government spokesman said. The driver was rescued and was taken into police custody. Right after the accident, a large crowd of people gathered, and many to collect fuel in the container. About 45 minutes later, the tanker exploded in a huge fireball.
Here's a video that is going viral and the debate is, whether the video is from the recent incident that took place in Bahawalpur or not. A majority believes, it is…
It is clearly seen in the video that people are filling their containers with the spilled oil from the truck. At the end of the video, a man is also seen smoking a cigarette and throwing at the ground where the oil is spilled. Was that safe for him to do that?
It took two hours for the firefighters to douse the flames and the police could not be reached in the region. Many people with serious burns were airlifted to a hospital in the nearby city of Multan, and an estimated 20 children were among the dead.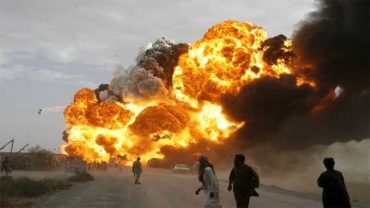 Many of the bodies burned were beyond recognition and television pictures showed piles of burnt out motorbikes, apparently those of people who arrived to collect fuel or just to have a look at what was going on. 
To those asking where the police were,  yes, the police had tried to clear the area before the explosion, however, the people ignored them and chose to risk their lives instead. 
It is truly a tragic incident for the nation and we have the deceased and their families in our prayers. Had it not been the cigarette in a highly flammable zone, this incident could've been prevented.  It's high time we educate these people on the issues and spread awareness in every way possible. 
Now, whether the video is from the incident that took place in Bahawalpur or another one take took place earlier, one should learn a lesson from this tragic occurrence and how it has drastically changed lives of many and their families.