The district police on Saturday arrested six shopkeepers who thrashed and abused three women on suspicion of stealing a tea packet from a grocery store in the Haroonabad area of Bahawalnagar.
Three women, reportedly belonging to Okara, along with two children, visited a market at Haroonabad and stole household items worth around Rs300 from a grocery store. Acting over suspicion, the store owner held the women and recovered a small tea packet worth Rs250 from their custody during a search.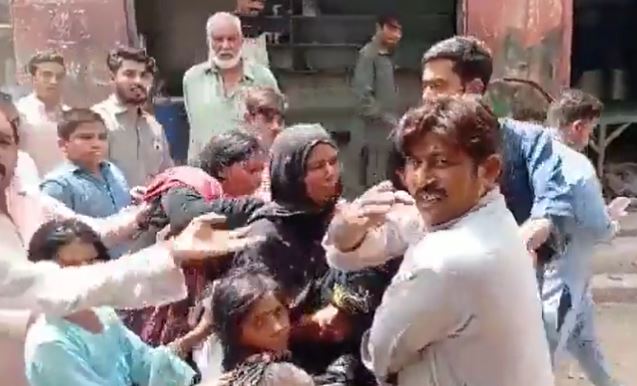 The traders tied their hands with their dupattas while declaring them thieves and harassed them. The women pleaded their innocence and told the people that they did not steal the tea. They, however, said the packet might be picked up by their children by mistake. The mob slapped and dragged them into the streets, sources added.
The traders also reportedly tore the clothes of the women and abused them and eventually handed them over to a team at the city police station which is half a kilometer away. Meanwhile, the police instead of taking action against those involved in torturing and insulting the women, let them go and kept the women at the police station.
A few hours later, when videos of the incident made rounds on social media and caught the attention of the IGP, the district police registered a case.
Here is the viral clip:
Police also registered a case against Muhammad Hasnain, Bilawal Aslam, Ghulam Husain, Abdul Ghafoor, Saqib Raza, and Muhammad Aqib on the order of IGP Rao Sardar Ali Khan who took notice of the incident after video footage went viral on social media.
Speaking to reporters, SHO Sajjad Ahmad said that some women were involved in house robberies and shop thefts at Haroonabad and he thought that they were the same women. He, however, denied knowledge of mob torture of the women.
It may be recalled disturbing video went viral last year showing a group of men descending on women as they cry out for mercy in Faisalabad. The horrifying footage showed the women wearing nothing but a piece of cloth barely covering their bodies, as they walked through the streets.
Surveillance footage later offered a very different take on the incident, revealing that the women allegedly stripped themselves to get away with the robbery. In this recent case, however, the men can be evidently seen harassing the women.
A raft of new laws to protect the women of Pakistan seems to have done little to nothing. Despite the existence of a raft of strong legislation focused on women's rights, the depressing figures of harassment cases keep exacerbating.
What do you think of this story? Let us know in the comments section below.