It has been almost nine months since most of the educational institutes in Pakistan have remained shut due to the novel coronavirus pandemic. In this environment, education has become a tough ordeal to manage across the globe. Recently, Bahauddin Zakariya university hostel has been threatening students with expulsion if they wont pay full fees.
As a result, many students in Pakistan have been calling out universities for lowering their fees during these times.
Unfortunately, universities have not paid heed to their requests. In fact, many have asked for full payment of fees from students while they study online. Some universities are even asking for full payment of hostel accommodation facilities, though many hostels are closed.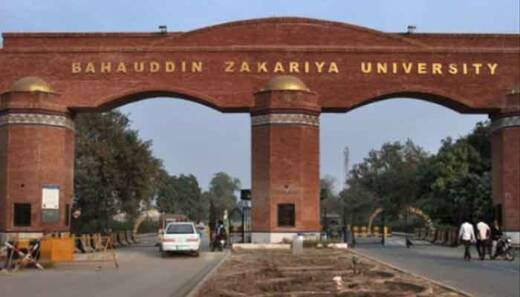 One of the university hostels is Bahauddin Zakariya University (BZU), Multan. The hostel management of Bahauddin Zakariya University has been threatening students with expulsion if they are unable to pay the hostel fees.
In a social media post, one of the students at BZU's Hajra Hall Girl's hostel mentioned that the COVID-19 pandemic situation is getting more worrisome by the day. In this pandemic situation, their hostel authorities are compelling them to come to hostel and submit the fees.
We will cancel allotment in case of late submission, says BZU hostel management
Apart from that, the hostel management is not allowing students any sort of concession, said students who have contacted Parhlo. Instead, they are threatening them that they will cancel their allotment in case of late submission.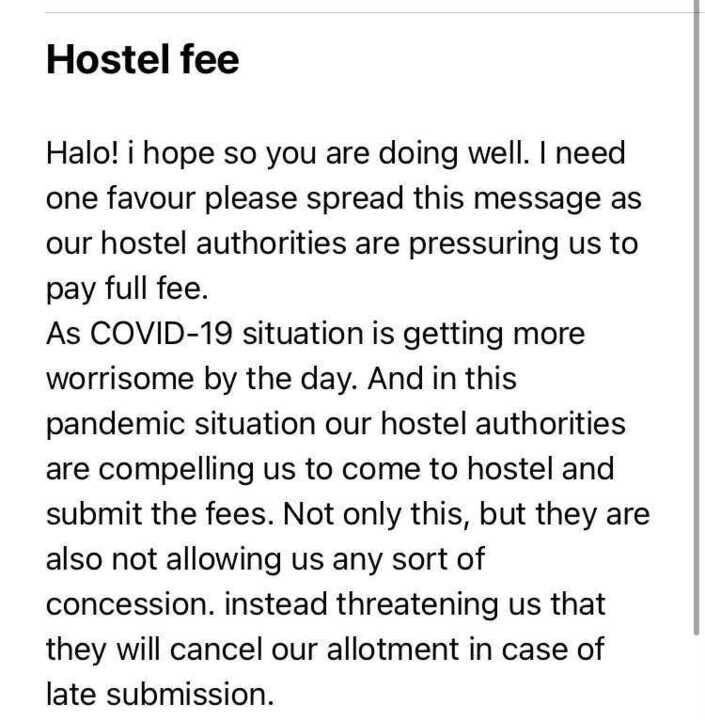 The main concern of students at BZU is that they have already paid last year's fees for the hostel. Students told Parhlo that they have only used hostel facilities for a few months. However, the authorities are asking them to pay full fees as they are going in a loss due to the lockdown situation.
The injustice which students are facing is that the university is asking for the seventh-semester fees to be paid for the whole year, even though they came for only 4 months. As a result, students need concession in their fees and they have asked for a solution for this issue as soon as possible.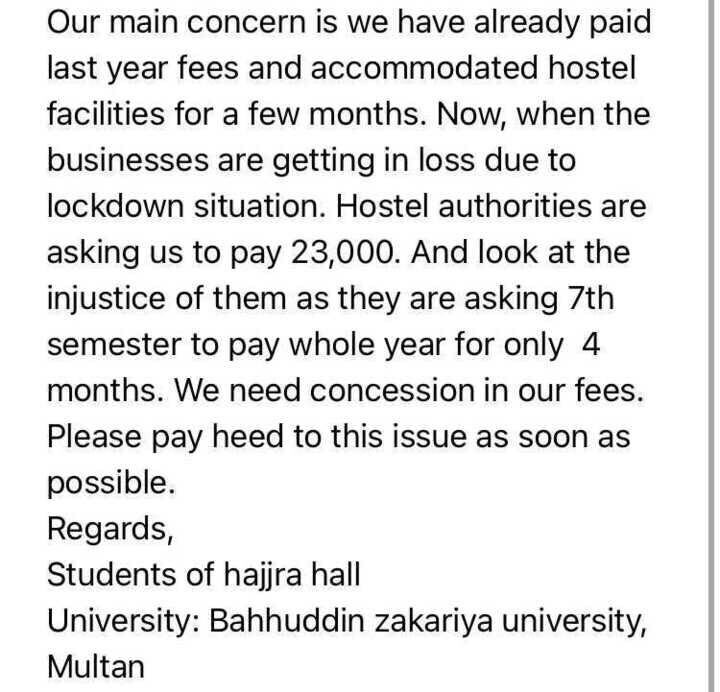 Educational institutes charging high fees even during the pandemic
Ever since the lockdown began, people have been talking about how academic institutions need to waive off or cut down their fees. Until they open again, at least.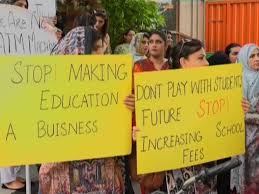 A highly prestigious university that has been charging high fees during lockdown is Lahore University of Management Sciences (LUMS). According to students at LUMS, the university is charging students Rs. 400,000 per semester. During the pandemic, such a fees is insanely high.
During the pandemic in April 2020, several parents did protest numerous times in a bid to secure the patronage of the government. They have requested the schools and the government to waive off or reduce the fees.
It is now the duty of the government to cooperate with university students. If they can't provide relief in exams, at least they should give them relief in fees.
What do you think of this story? Let us know in the comments section below!