A brave Kashmiri lawyer Babar Qadri was shot dead by 'unidentified men' in Srinagar on Thursday. According to media reports, he was rushed to the Sher-i-Kashmir Institute of Medical Sciences hospital in Srinagar. However, Qadri had received a bullet wound that martyred him and Indians celebrate Babar Qadri's death.
On September 21, three days before his death that now Indians celebrate, Babar Qadri had tweeted a screenshot that urged the Jammu Police to register a first information report (FIR) against a Facebook user for starting a wrong campaign against him. Here's his tweet.
Qadri was vocal about Indian human rights violation in Kashmir
Qadri was fighting for the oppressed Kashmiris and their freedom. Other than being a lawyer, Qadri was often seen in television debates facing hardcore Indians face-to-face.
He kept up his television appearances even as Indian media became increasingly nationalistic after the election of Mr. Modi in 2014.
He once chanted Hindustan Murdabad on the show of Indian journalist Arnab Goswami. The ever-irritating and controversial Indian anchor wanted him to chant against Pakistan. However, Qadri knocked him down.
Watch it here:
Senior Pakistani journalist Raja Faisal said that Qadri raised his voice about India's fascist regime that violated human rights issues in Kashmir. As per sources, not some unknown men but Indian agency RAW is behind the killing of Qadri.
Kashmiri Muslim leaders express their grief on Qadri's death
On Friday, Kashmiris mourned Mr. Qadri as a rare public advocate for his home in a troubled time. One year ago, India tightened its hold on the Kashmir region. Local activists say speaking out has become increasingly dangerous in the region.
Long volatile, the predominantly Muslim Kashmir region has suffered growing violence since the Indian government last year revoked the region's semiautonomy and increased its security presence there.
Apni Party vice-president Ghulam Hassan Mir condemned the killing of Qadri. He issued a statement against the death of Qadri, saying the attack was "inhuman and barbaric".
He said, "The killing of a young and promising lawyer, who represented members of the poorest, most marginalized parts of Kashmir at all the forums available to him, including many of the victims of conflict and their families, has a devastating impact on access to justice in Kashmir."
Former Jammu and Kashmir Chief Minister Omar Abdullah expressed his grief at the incident.
Social media is full of messages from people across the world, who are remembering the brave son of Kashmir for taking stand for his people.
Indians mock the death of Qadri on social media
The death of Babar Qadri is tragic. However, some heartless Indians are celebrating the news of his death on social media. How on earth one can celebrate a death?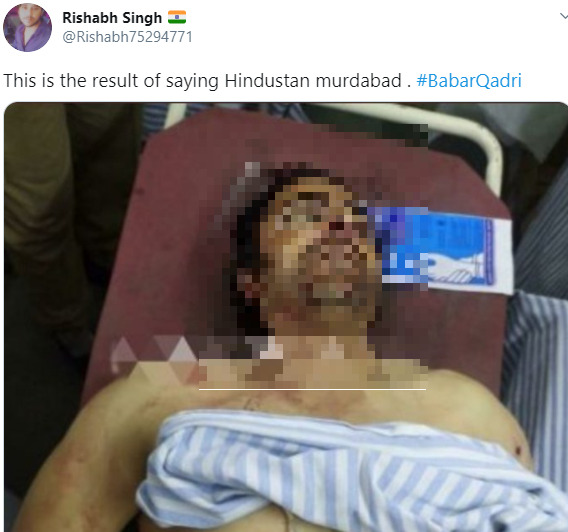 Qadri's martyrdom is certainly depressing for the Kashmiris who are fighting for their freedom against the violent Indian regime. Modi must realize that force begets violence and the use of guns will never achieve anything.
The death of Qadri is tragic. He was a brave Kashmiri soul who fought for the rights of his people. It is also evident in one of his videos that he was never afraid of death. However, freedom for Kashmir's freedom will continue.
Pakistan Zindabad! Kashmir Zindabad!
What do you think of this story? Let us know in the comments section below!