A cleric Aziz-Ur-Rehman who has led anti-blasphemy rallies in Pakistan finally admits that he sexually abused and raped a student at a religious school, police said on Monday.
According to the police, Aziz-Ur-Rehman confessed and admits the viral video featured him and it was secretly filmed by the victim student who was raped. He also confessed that he had lured the student with passing marks in the exam. He later sexually abused him. Rehman said when the video went viral, he got scared of the repercussions.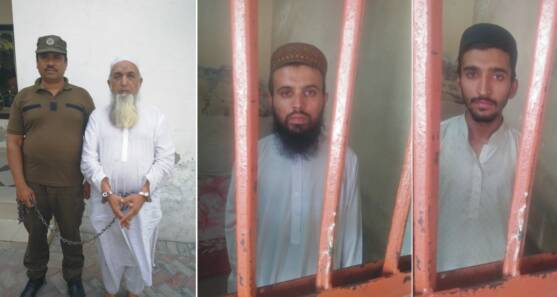 He said his sons had threatened the student and told him not to speak to anyone about it. However, despite the threats, the student went ahead and posted the video online.
Rehman said he earlier issued a video statement because he did not want to leave the madrassa. But following the video scandal, the administration of the madrassah asked him to leave his job.
Rehman was arrested by a team of the Crime Investigation Agency (CIA) during a raid in Mianwali on Sunday. Later, the CIA also claimed the arrest of Rehman's two sons, Altafur Rehman and Atiqur Rehman. They are charged with threatening the victim of dire consequences for filing a case against their father. Both of them have been booked for criminal intimidation.
The police traced Rehman, who went into hiding, and his sons via the location of their mobile phones. They were hiding in Mianwali when the police finally arrested them. 
Cleric charged with sexual abuse
The case emerged when cellphone videos purporting to show the cleric forcing himself on the student went viral on social media. It caused a stir in Pakistan, and outrage on social media, with many calling for strict punishment for the cleric.
Rehman in his earlier video claimed he was drugged before the filming of the abuse. He said this was part of a plot to throw him out of the seminary, the Jamia Manzoor-ul-Islamia.
Rehman, who is in his 60s and is a member of a prominent religious political party, has worked as a custodian of the seminary for several years.
The seminary said the cleric has been expelled from his position, and Wafaq-ul-Madaris, the body that oversees the religious schools system, said it has stripped him off his title, mufti, which means a religious scholar.
The victim student appears to be in his early 20s. He said he was forced to 'make him happy.' The student has already given several videos, and audio recordings to help police investigate the case against Rehman.
What do you think of this story? Let us know in the comments section below.