A mobile phone video revealed a historical mosque was turned into a pigsty in Zangilan, Azerbaijan, which was liberated on Oct. 20 from the Armenian occupation.
The video posted on social media showed Azerbaijani soldiers entering the mosque and encountering pigs in the Islamic facility. The historical mosque has become a ruin in the video.
According to TRT World news, Armenians used to keep pigs and cows in mosques in Nagorno-Karabakh. It was liberated recently by Azerbaijani Army on October 20 through a war that lasted for more than two months.
Addressing people outside the mosque during his visit to Nagorno-Karabakh, President Aliyev assured the citizens that his government will protect all religious places as historical assets of the country. Moreover, none of the citizens should worry about their safety.
He also said Western leaders were raising questions regarding what will happen to Christian churches in Nagorno-Karabakh after it came under Azerbaijani control. Aliyev said that these questions were raised by those people who are shutting mosques in their own countries. Such people are insulting Islam and harassing Muslims.
He said, "Who can criticize us? Those who shut down mosques? Can those throwing the heads of killed pigs into Muslim mosques teach us a lesson and express concern? No one should worry, especially the leaders of the Western countries. They ignite Islamophobic sentiments. The people turning a blind eye to the insults on Islam have no right to talk about it."
President of Azerbaijan added this his government took over the Aghdam region without firing a single shot. Aliyev said that it's a great political success that was not possible without military gains.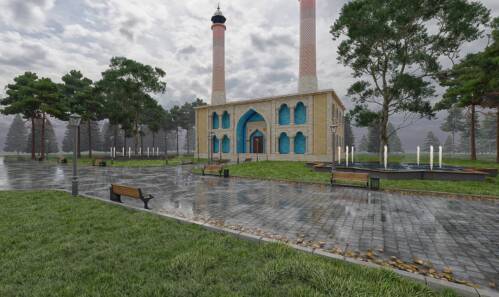 Armenia has also handed over Kalbajar district and Lachin district to Azerbaijan.
Govt of Azerbaijan preserving Islamic heritage
It is evident that through restoration of Agdam Mosque, Azerbaijan is playing its role to preserve Islamic heritage. It also illustrates that enrichment of Islamic culture are an integral part of Azerbaijan.
Islam acts as a religious belief and a national-moral value for the people of Azerbaijan. While the entire world experiences great problems based on religious intolerance and conflicts, Azerbaijan can serve as best example of a country where the government and its citizens show respect to human-beings of different races and religions.
What do you think of this story? Let us know in the comments section below!