Numerous celebs were spotted at Azadi March held on Wednesday. They took to the streets in their respective cities to support former prime minister Imran Khan's call for re-elections.
All celebrities in attendance, including Samina Peerzada, Imran Abbas, and Osman Khalid Butt shared scenes from the rally. They all made it a point to also speak about and share evidence of tear gas, shelling, and the violence they were subjected to.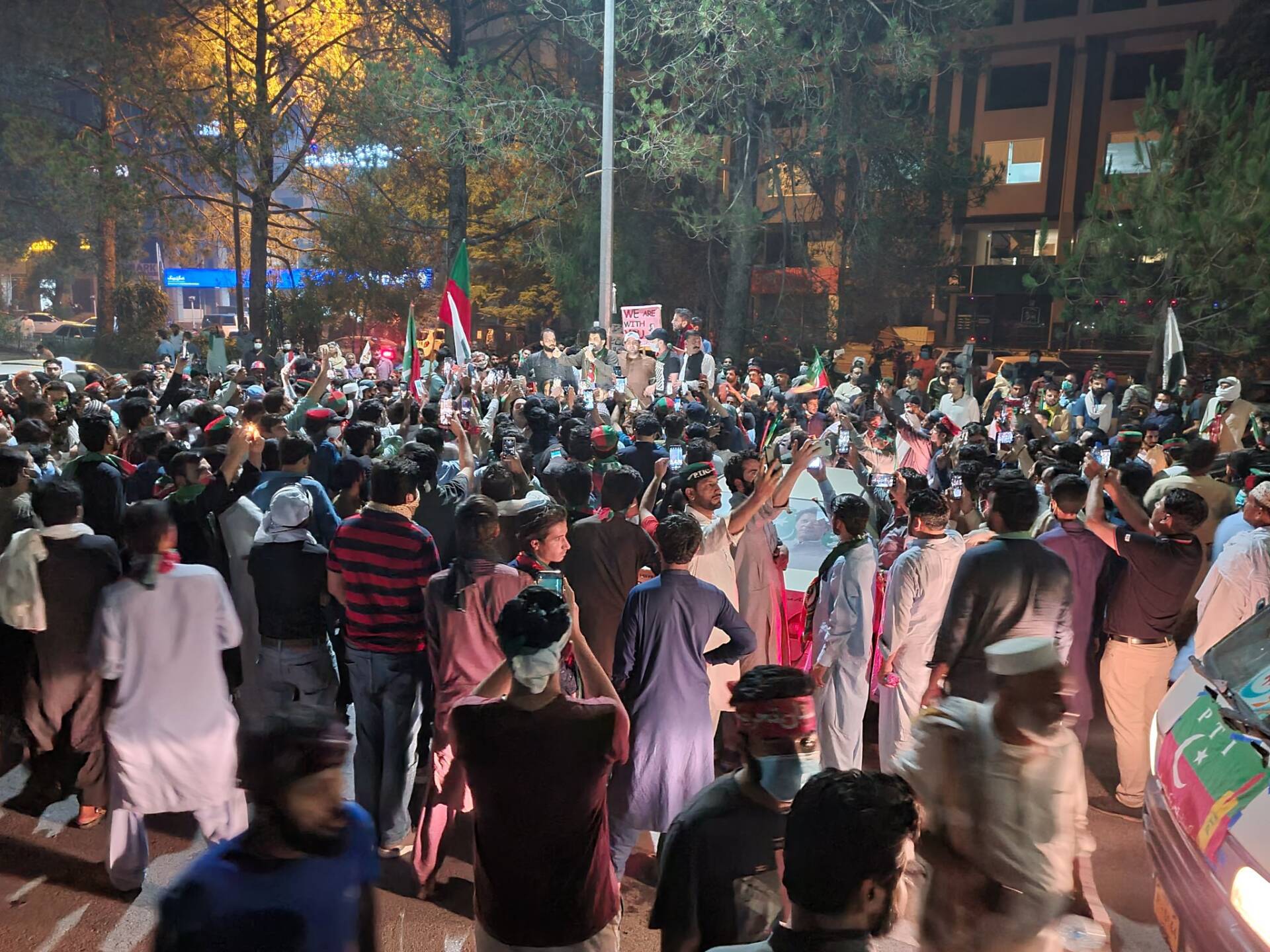 Sharing "scenes from the jalsa," on his Twitter, Butt wrote, "The shelling was intense – you can see the after-effects in the air. We were also told the small fires on the sides of the road were to counter the tear gas."
While responding to a user about the same incident, Butt wrote rather disappointingly, "I was there when the tree was set ablaze. When inquired who did it, no one took accountability."
In another tweet, Butt shared a photo of one of the many shells swinging at the protestors, to write, "More incoming." A user replied with a journalist's tweet informing us about the emergency situation at the rally in Islamabad.
"Emergency and Urgent! PTI Marchers at/around D-Chowk are in severe need of drinking water, salt, and towels to avoid heavy shelling. Please send messages and make calls to your relatives, friends, or people in Islamabad to ensure the supply."
'Kis kis ko rokoge?'
After being subjected to tear gas in the same protest, Nafees posted a video washing her eyes in agony. "It's 4:30 in the morning and they're still throwing horrid skin and eye burning tear gas to disperse protestors. Kis kis ko rokoge (How many of us will you stop)?" she asked.
In another tweet, she informed, "Khawateen aur bacho pe straight fire. Model town on a larger scale. If you still support them then you're worse than them."
'Elections zaroor hongay, InshaAllah!'
Peerzada, on the other hand, lauded the women who made it to the march and refused to leave, despite the security concerns at hand. "Thanking all participants, especially the sisters and mothers who left their homes in the hope that coming days will be better, that our children will get to grow up in a truly independent state. Keep winning. Elections will happen, God willing!"
Into the bargain, Haroon Shahid documented every turning moment of the protest in Karachi to share with his followers. He started it off with a video having crossed some tankers while on his way to Numaish.
"Tankers have been crossed. Nothing happening here yet! Start moving towards Numaish!" He then tweeted, "Karachi leadership missing! No worries, we'll handle things ourselves." He then requested Karachi to "step out," before warning in another tweet: "Please do not bring children along with you. Sindh police is up to no good!"
The musician and actor then shared videos of the "shelling" that also ensued in Karachi. "Intense shelling here in Karachi. As you can see, all these people are being forced back. Hold your ground Karachi." Sharing a photo from Numaish, he added, "Back at Numaish! Rok sako to roklo! Pakistan Zindabad, Imran Khan Zindabad."
The PTI Chairman on Thursday gave the incumbent government an ultimatum; to announce elections within six days or have the "entire nation" return to the capital.
Read More: 'It Is Imran Khan Or Nothing' – Several Celebs Join Massive Crowds At PTI Jalsa In Lahore
What do you think of this story? Let us know in the comments section below.