Model Ayyan Ali lost her cool and threatened to expose former prime minister Imran Khan for bringing up a money laundering case she was named in during his speech at a recent PTI rally.
At a rally in Attock on May 12, Khan spoke about investigation officers getting killed off and that's when he brought up Ali's now closed case, claiming her officer had met the same fate.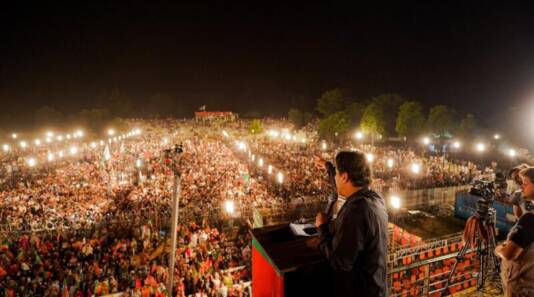 "When great thieves are appointed in high positions, all of them handle their high ranks and clear their cases," said Khan. "And that FIA officer, Dr. Rizwan, I offer him my salam for the case he built against Shehbaz Sharif. Our poor government officers are scared, they are afraid of this mafia."
"There are so many people they have gotten killed. When Dr. Rizwan called Hamza Sharif and questioned how this Maqsood chaprasi (peon) had nearly Rs4 billion — how do the servants have Rs16 billion? And Hamza Sharif, instead of responding, threatened, and intimidated him asking how he dared to ask him these questions."
"People fear him which is why Dr. Rizwan, we salute people like you who take action against this mafia despite the danger of backlash. How many people were killed — they got Ayyan Ali's customs officer killed!"
Ayyan Ali claps back
The model responded in a 12-tweet thread. "Two habits you will not stop until your dying breath — first, gaining TRPs using my name (because earning and eating on your own is not your nature). Second, lying (because you have not learned how to tell the truth). You stayed prime minister for four years, even then your speech is incomplete without casting false accusations at me. Just as it was before," she wrote.
"Even today you need me to stay relevant. It is a damming indictment of your authority. If your own accomplishments could speak for themselves, they would — you should not be lying, using my name at this old age," she added.
"You were prime minister for four years, even in this duration I was termed bad due to the false cases because I'm honest and you were and are a liar," she said, attaching a screenshot of an article discussing her winning the 'fake' money laundering case.
Reasserting that he has been spewing lies, she said that his claim about the murder of her case officer was another lie. "In my case, the investigating officer was Inspector Saleem from day one. He is alive to this day, he is healthy and is receiving an award from his department. Each of my court documents for my false case has his name on it."
The model attached a photo of his name stamped on her documents.
"Additionally, every person included in the court document is alive, perhaps you can't read it because of your third division or your addiction. This is why you narrate Alif Laila's stories. The man who was killed was Inspector Aijaz. There is no relevance to my case at all. This was proved in the high court," she attached a screenshot to confirm what she was saying.
Threatens to expose him
The model said she fought the case in several courts, and her innocence was proven everywhere, adding that the Supreme Court exonerated her in the case. Ali said if Khan was so suspicious of her despite the Supreme Court ruling, he could have reopened the investigation during his term. "As prime minister, you were not able to legally say anything to Asif Ali Zardari, Nawaz Sharif, Maryam Nawaz, Bilawal Bhutto, or me but now you are begging us for TRPs."
She also mentioned the negative impacts the court sessions had on her. "Whatever I faced in those false cases, the high court termed it unprecedented victimization and a national tragedy. If you had any shame you would [not] spread these lies again but if you had any shame, you would not be you. How else would we know the caliber of someone who went to Oxford on a sports quota?"
Promising to keep exposing him, she said, "The same liars ended your sinister authority and the same [liars] will expose you further will Pakistan and its public will be free of your disgusting tactics. Till then I will unveil the lies you've told and will also ask what's the update on the attempted murder case you're involved in."
"From your side, a police officer was attacked on live TV, and another was threatened on live TV. It is time for you to answer to these cases and others including flour theft, ring road, Malam Jabba, BRT, drugs, petroleum, Mohmand dam, blasphemy, and foreign funding," she said.
Using his slogan against him, she added, "umeed hai aap ghabrayengay nahi," and she sarcastically concluded that if he wanted more respect, he should take her name again.
What do you think of this story? Let us know in the comments section below.