We could all use a little reminder on why getting older should never be something to feel ashamed of – and in addressing an unkind comment on social media directed at her, Ayesha Omar and other star Pakistani women eloquently communicated that message.
People on the internet are often prone to making rude comments about vulnerable others because they feel entitled to do so. Social media accounts, who troll, make deliberately abusive and offending comments in order to get a response from the public figure. However, these people in the entertainment industry are opting for silence no more.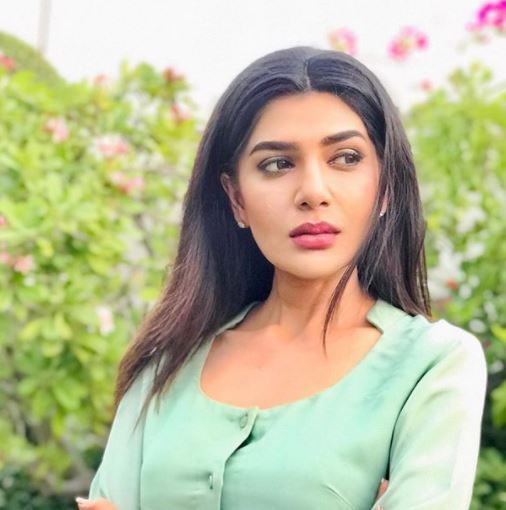 On Friday, Iffat Omar took to Instagram to share a picture with her girlfriends from the night of celebrating the renowned director Angeline Malik's birthday. Iffat invited Bushra Ansari, Samina Ahmad, Angeline Malik, Arjumand Rahim, Saba Hameed, and Ayesha.
Take a look at it!
Everybody looks super happy and gorgeous in the picture. But obviously, a keyboard warrior could not resist making some attention-seeking comment and called them,"Shaitan buddyan."
Having none of it, Iffat hit back at the troll. The Mohabbat Aag Si actor replied, "Obviously someone with no id and followers can't utter shit like this."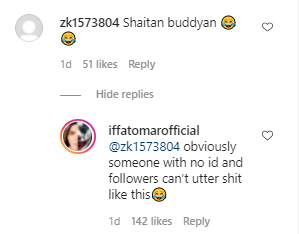 Later, Ayesha also shared her two cents on the troll's ageist comment. While there are many responses the Bulbulay actor could have fired off, she kept it classy.
'But most humans will get budha in their lives'
The Karachi Se Lahore star schooled the troll over his blatant ageist remarks. "But most humans will get 'budha' [old] in their lives," she wrote. "If Allah wills and they reach that age. It's a natural process. In fact, it's a blessing to be alive and healthy in the latter part of your life."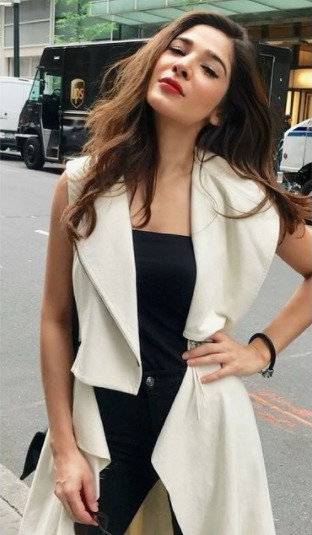 "Why do people use 'age' as an insult or in a derogatory way?" she asked. "Aren't your parents old, Mr. Troll? Or your grandparents? Do you insult them for their age too?…"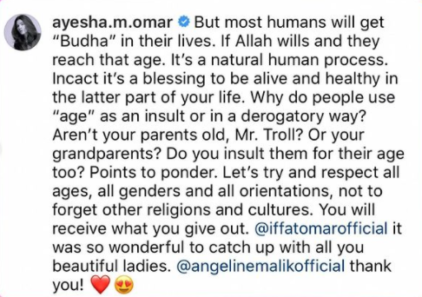 Well, amen to that! There is not one part of what the actor said that we do not adore. Her response obviously resonated with fans, too.
Nausheen Shah & Mathira also give their two cents
"We should be thankful for being alive and aging gracefully rather than being negative," Shah wrote.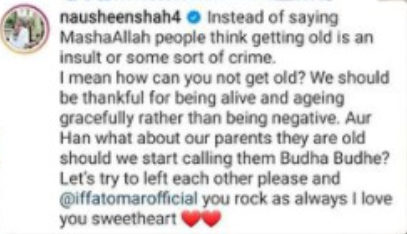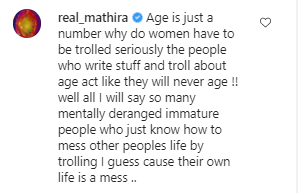 Another actor Sheheryar Munawar gave a befitting response to a troll who told him to, "Pray before he is prayed upon". But that was not the only time. You will also love how he schooled a troll who called him 'Ghareebon k Bradley Cooper'.
What do you think of this story? Let us know in the comments section below.