Although we think the entertainment is all glitz and glam, it is not easy for the stars to cope with the stardom. Limelight and stardom is all nice until people start criticizing you for doing everything! And honestly, you just cannot please people no matter what you do and how hard you work. There will always be that someone who is not going to like you. Getting criticized and slammed on one thing or the other has become pretty common for our celebrities.
And just like so, Ayesha Omar was seen having the time of her and the vacation she deserved after a long, long time! And yet again, Ayesha Omar, has become a victim of severe bashing after she was seen sharing pictures of her trip to London! Ayesha Omer, being a prolific actress has always flaunted her inner wanderlust with some great travel pictures!
Here is the picture that triggered the awaam!
The comments people were absolutely pathetic and awful!
So harsh!
Absolutely rude. Aapne kabhi socha comment karne pehle?
Apko koi problem hai? 😛
And there were some who had at least some aqal in their brains!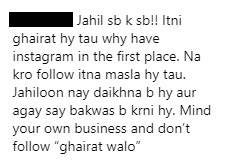 This is wrong on so many levels! People need to realize how their words do not mean anything and commenting such filth does not make them any better. That is obvious!
Anyway, while on the trip, Ayesha even introduced her elder brother and sister to her fans!
And here's what she wrote!
:Say hello to my elder brother and sister…. Jamila (named after my Dadi) and Rashad named after my Dada's brother. They're half English and have always lived in England… I see them every summer when I visit London….my brother is married now and lives in Austria, with his wife and the cutest little baby girl and my sister lives in London and chose to adopt…. Catching up with my siblings is always surreal… it makes me think about what my father would've been like if he was alive, how there's a bit of him sprinkled and meshed into each one of us, it's a reminder of how wonderful life really is, how significant we are for some people and just how insignificant we are in the larger scheme of things…."
It's great to see how some people still know how to stand for what's right. Plus, it's simple. You don't like someone, you UNFOLLOW them.
Why do people comment on pictures and post if they hate it so much? Let us know your thoughts in the comments below!