Mr. Axcuse Me aka Waseem Hassan Sheikh is back with yet another epic work of art! Every now and then we are blessed to see the famous social media personality pop up on our newsfeed. If you have seen his KitKat talcum ad or any other ad, you would know the cringe-fest and laughter his ads bring along. But well, this time he is back better than ever.
Sheikh is known for his unique approach to ads that are not just interesting and captivate audiences but also pocket friendly. That might be the reason why his videos are so popular among small business owners who want their products or services to be advertised on cable TV.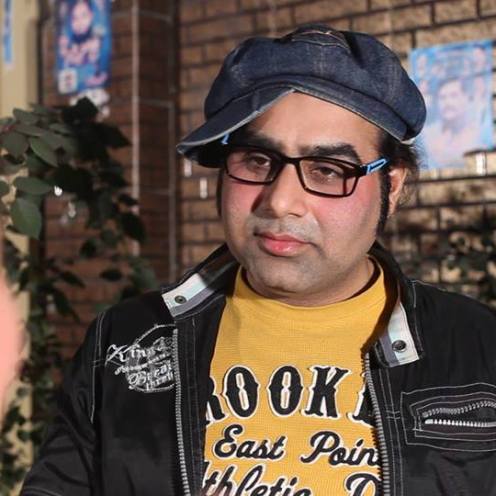 This man became a legend mainly because of the bad quality of his adverts. Oh well, and also because of the indigestible expressions of the actors. The dialogues are another story on their own. The bottom line is- anyone who wants to have a good laugh, can tune into ads by Sheikh.
From KitKat talcum powder, cozy haleem to Nawab Biryani ads – this guy's like the King of creation. More so, no matter how much people mock him, we all know pretty well that this dude can crack us up in a matter of seconds. oh and not to forget his twerks and thumkas. Totally out of this world!
'Main Imran Ke Bina Nahanay Ka Soch Bhi Nahin Sakti'
So, recently, we found another ad that made us burst into laughter and you ought to check it out!
The ad is basically about a soap by the name of 'Imran Soap', and the female model in the ad says a double meaning dialogue that makes us wonder if it was intentional or accidental. But well, knowing the kind of content this guy comes up with, we are pretty sure it was done on purpose.
He might not be your conventional ad maker with gigantic brands on his side but he does make you think 'how does he do it? So basically, in the video, the female says, "I am an admirer of Imran. I cannot even think of showering without Imran."
Here, let's take a look at this ad: If you had not heard of Waseem Sheikh before, we are sure you will never forget him after watching this!
Did you cringe or laugh? We are guessing… both! So did we. LOL.
This is how social media users reacted to the ad
Told you, it is a total cringefest!
His clients for ads range from a restaurant to the grocery store, you name it and he has made an ad for it. Sheikh shares most of his videos on Facebook and surprisingly, they tend to garner thousands of views within minutes.
The advertising world has never been the same since Waseem Hassan Sheikh entered the scene. The man who is widely recognized for the evergreen catchphrase 'axcuse me, app bhi', is one of the most talked-about ad makers in Pakistan. And as strange as it sounds, he has a huge number of followers who eagerly await his ads.
What do you think of this story? Let us know in the comments section below.