Misbah-ul-Haq just retired and we are very sad! He is one of the best players to grace Pakistan cricket team. Misbah was a phenomenon, he indeed cannot be replaced and at the moment of his retirement, we just realize what a gem of a player parted his ways.
Misbah-ul-Haq's star-studded career was replete with moments that we will never get over. His surreal rise to captaincy and one of the best players in the squad was amazing. There were many emotional moments Misbah became a part of. So many ups and downs he faced throughout his career. A heap of criticism he faced from important figures, yet he continued to defy the odds and emerge as one of the best ever.
We are here to recall all the coveted moments of Misbah-ul-Haq's career, so let us go down the memory lane!
1. Push-ups
You can never forget this! Every time you start doing push-ups as a celebration, you will definitely remember your captain Misbah-ul-Haq. My word, what a triumphing trend it became. It absolutely took a toll on people. People fell in love with it and it easily went viral. Misbah's iconic push-ups gesture continued to win hearts of people. Even foreign nationals recognized it! Safe to say, the push-ups become one of the best trends in Cricket.
2. Winning 1st edition of Pakistan Super League
World class cricket players graced Pakistan Super League with their performances. Misbah was one of the greatest players to enchant the hype of our domestic league. He was bought for around $140,000 by Islamabad United and captained on the side. He went on to win the 1st edition of PSL in 2016 – another milestone added to his honors and awards.
3. "Paddle Scoop" in the iconic T20 World Cup final innings against India in 2007
Misbah-ul-Haq's popularity was intermittent back then. He was not as established as he is today. Pakistan faced India in the final of ICC T20 World Cup in 2007 and the match was nothing like anything. Our team did disappoint us, but Misbah tried all he could to save us in the match. He played all the cards. It rained sixes that evening and for a moment, our hopes were alive, thanks to Misbah! How can we forget that lovely Paddle Scoop – absolutely beautiful!
4. Led Pakistani to be the top Test cricket team in the world as captain
Misbah-ul-Haq was the best captain this team has ever had, be it any format. He led the Test team to be no. 1 in the world for the first time. It is surely a goal that came by the brilliance of captain fantastic Misbah.
5. Misbah received this grand ICC Test Championship mace
He won the coveted mace for taking Pakistan Test cricket team on top! ICC Chief Executive David Richardson presented the lovely mace to Misbah-ul-Haq at the Gaddafi Stadium in Lahore.
6. He has been Pakistan's most successful captain
The team has had one of the best players appointed as official captains. The likes of Intikhab Alam, Hanif Mohammad, Majid Khan, Imran Khan, Javed Miandad, Waqar Younis, Wasim Akram, Inzamam-ul-Haq and etc. were some of the best names to captain the side. And then there was MISBAH! The best captain of all! He's the most successful captain with record 23 wins.
7. When he scored the fastest 50 in Test cricket
In just 21 balls, Misbah-ul-Haq managed to score 50 runs in a Test match against none other than Australia in Abu Dhabi. It was dreamlike innings that he superbly managed in just 24 minutes.
8. THIS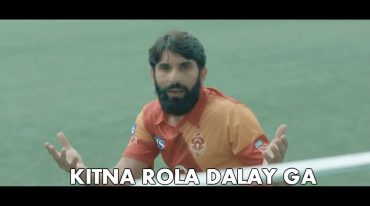 We still can't get over this one… What a trend it became in PSL 2017!
9. MASTER BLASTER
Misbah scored the fastest Test cricket century on 2nd of November, 2014 in Abu Dhabi in just 56 balls against Australia. He was given the title of "Master Blaster" for the spectacular feat.
Misbah-ul-Haq will be immensely missed! We wish our captain all the great luck ahead in whatever he has decided for him. We thank him for all the great memories he has given us.
#ThankYouMisbah