An attack by religious party members forced the cancelation of the Aurat March in Lahore. The attackers were attempting to disrupt the march by taking out a Haya March against the Marchers. In Islamabad, Jamiat Ulema-e-Islam launched a hate-filled rally by chanting slogans against attendees of the Aurat March.
Dozens of men in Lahore from religious organizations gathered to stage a counter-protest they called the 'Haya March,' just 200 meters away from the Aurat March. Police attempted to keep the two groups apart by erecting a barricade, but violence broke out when men attacked the Aurat March.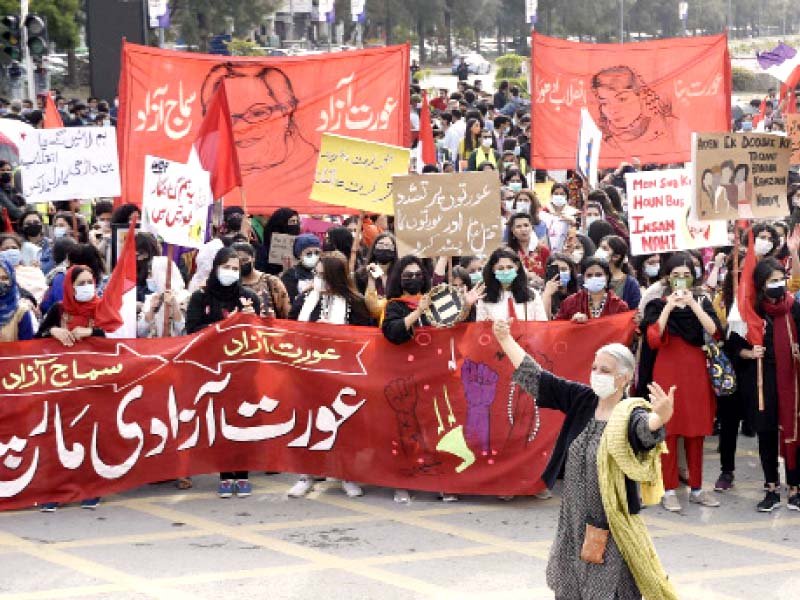 Amid security concerns, the Lahore Aurat March had to be stopped and events scheduled for later in the afternoon were canceled.
Marchers in Islamabad faced similar counter protests. JUI-F speaker Umme-Hassan prayed that 'the Aurat March women face the anjaam (end) that Noor Mukaddam faced.' Activist Usama Khilji reported that police stood by and took no action against the incendiary comments.
Organizers of Aurat March Islamabad further claimed that police and district administration engaged in 'intimidation tactics'. They allegedly turned off the women's microphones, threatened the operators of the sound system, ordered the crowd to disperse, and misguided attendees trying to get to the event.
The Islamabad march ended early, as well, following pressure from the district administration.
Opposition faced by the march
Throughout the country, women march annually on March 8 for their fundamental rights. But every year the Aurat March faces opposition from people who refuse to even comprehend what the movement stands for. In lieu, they label the placards as 'immodest' and alter the meaning of the words to fit their own perceptions.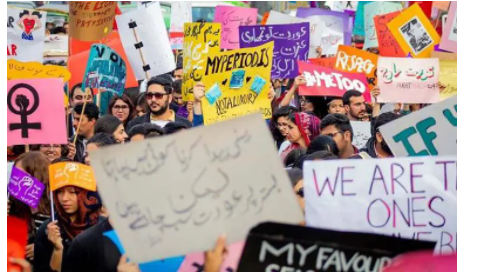 Since 2018, Aurat March has been held in many cities across Pakistan to coincide with International Women's Day on March 8. Those who take part in this often face intense backlash, especially online. They have also received death and rape threats in the past. Religious and conservative groups have always incriminated the march to be against Islam.
In a not-so-surprising move, the Minister for Religious Affairs Noorul Haq Qadri recently requested to the Prime Minister that March 8 be designated as Hijab Day this year.
Those opposed to the minister's request and opinion are not anti-hijab. The hijab deserves recognition as well – but he is undermining the point women are trying to make. To celebrate Hijab Day, the minister should have done something on the actual World Hijab Day, which is February 1.
What do you think of this story? Let us know in the comments section below.