This year's Lux Style Awards were as amazing as they have always been. The star-studded event was full of glamour and breath-taking performances by our very own Pakistani celebrities, who of course, never fail to impress us!
Along with all the glamour and heart-stopping moments at this year's LSAs, the one that brought tears to everyone's eyes was Atif Aslam's tribute to Junaid Jamshed. The singer moved everyone in the crowd by humming the lyrics of Junaid Jamshed's classic "Us Rah Per!" There was no dry eye in the crowd and even the audience joined Atif Aslam in his heart-touching tribute to the Iconic Junaid Jamshed.
Here's the video of Atif Aslam's heart-touching performance:
This is not the first time that Atif Aslam his paid his tribute to the legendary singer. Previously, during his concert held in Lahore, he mesmerized the crowd by singing his famous song, Aietbaar.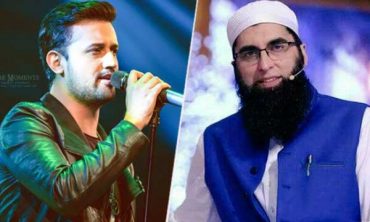 Apart from his tribute, Atif Aslam also presented the national anthem of Pakistan in a very beautiful manner, something which many viewers applauded him for. Done in an entirely new manner, the singer made sure everything he did during that evening left an impact on the audience.
Here's the video of his national anthem performance:
Moving back to the subject of Atif's tribute to Junaid Jamshed, it has been a few months since he along with 48 other passengers and crew members, lost their lives after an ill-fated PIA plane crashed near Havelian. His sudden and untimely death left the entire nation and all his fans around the world, mourning his loss!
Junaid Jamshed with his leather jacket and stonewashed jeans was the style icon of the early 90s. He'll be remembered in different ways by different people. For me, it was his music with Vital Signs and beyond. Junaid's memories will always remain fresh in our hearts.