Karachi Eat – one of the most anticipated events for food lovers in Karachi was all set to take place in full flow until the rainy weather drenched the city in its beauty, delaying the event to take place next week. While Karachiites, just like every year were looking forward to the event, the 'No Stag Allowed' policy of the event caused a lot of uproar on social media.
There Were Men Who Understood The Basic Realities
And Then There Were Those Who Were Really Butthurt
Ufff.
And The Concerns For Women Increased As Well
There Was No End To The "Logical" Debate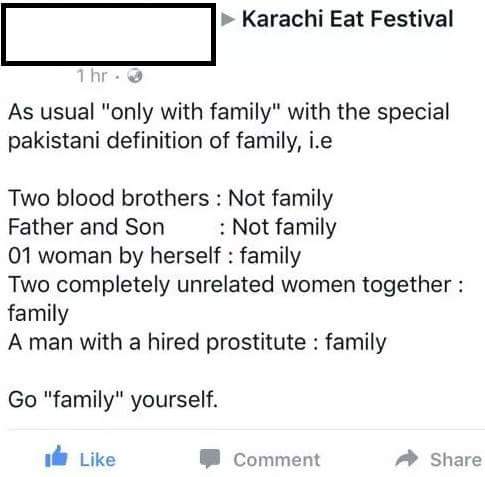 LOLOLOLOLOL
This Does Make Sense To Some Extent
All this debate around allowing men to attend an event as stags makes us realize why there should be some management or separate sections for women. Yesterday, Atif Aslam and Abida Parveen performed live in Moin Khan Stadium DHA Sports Club. The environment at the concert showed why Karachi Eat's Policy of allowing 'families only' is what people needed the most.
One of the many present in the crowd last night, Osama Ashaqeen explained how men started harassing women present in the crowd. Here's what happened:
Mad respect for Atif Aslam last night, stopped in middle of a song & scolded guys who were harassing the girls in the front row.

— Osama. (@ashaqeens) January 15, 2017
Made sure all the girls were safe before resuming the concert.Also pointing to a harasser he said,"Insaan ka bacha banja ya mai bana dunga"

— Osama. (@ashaqeens) January 15, 2017
I admit i was wrong about Karachi eats only family policy,some men really are dogs & can't behave in public. Should be kept in cages.

— Osama. (@ashaqeens) January 15, 2017
Not only were a lot of women harassed outside & inside the concert but a friends pregnant wife was kicked in the stomach by some asshole.

— Osama. (@ashaqeens) January 15, 2017
Osama also shared with Parhlo how poor the management was and there was no control over the crowd. He mentioned how men and women had same entry gates and there was too much hassle, causing men to take advantage of women and pushing them away. There was no time management as the performers came extremely late.
Osama shared that in the middle of the song, Atif noticed a man teasing a woman, stopped singing and called the victim on stage. Atif made sure that the girl was taken care of and scolded the man live.
In addition to this, people shared their experiences on Facebook as well:
A Solution Much Needed, Thanks To What Happened
Much of the blame was dumped on poor management and security who failed to manage the crowd before, during and after the event. People had to go through a lot of trouble to find their way in and out of the location.
Moments like these make us wonder if we are living in a world filled with humans or scavengers.