So, another day, another sunshine and we wake up scrolling through our social media newsfeeds, trying to find a bit of a motivation to start with our day. A cup of chai/coffee in one hand and our phone in the other. We see mixed content on different social media apps. For celebrity stuff, Instagram. For news updates, Facebook. And, for politics, (un)correct views we have Twitter.
Today, scrolling through Instagram we found a very good picture rather a cute picture of Atif Aslam and Mahira Khan hanging out together and having a good moment. But, wait! Are we missing a phuphoo moment? Our daily dose of phupho moments! How can we? Well, Atif and Mahira's photo on Instagram created this heated discussion among people on how Atif, too, should be shamed for wearing shorts in public.
They probably are enjoying some show or are at some rehearsal. But how dare Atif do this? Wear shorts? Par kyun! some people in the comments can't  seem to get over the fact that he's wearing shorts in public and here are their reasons.
And it started!

Yes, that's what he says so… Koi shaq?

Lo jee! Baby got angry on this

These people are offended by anything and anyone. Let's not be surprised.

Oops! Take a chill pill!!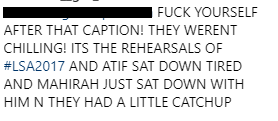 Anything that a celebrity wears bothers people!

Amidst this hideous fight, some anday wala burger moment!

14 years in his career, Atif did earn a lot of Aadeez!

But what's internet without criticism. No?

People search for celebrities posts just to bash them most of the time and then fans come over to say a few words and then it turns out to be a fight! Well, nothing new, right? But we are sure you would not have seen a guy being bashed for wearing shorts in our culture. Atif shouldn't have done that, akhir kesy? He's a Muslim guy! 😀 L O L.
When will people understand that letting others do what they want to to do is just as simple as anything? Try kar k dekhen. 😀
Leave a comment below to let us know what's your stance on this. Tag your friends and share it away!!