Ever since actress Hania Aamir announced that she is not dating singer Asim Azhar, Hania has been facing severe criticism. Though they never announced their relationship status but their romantic relationship was out in public.
The youth now has announced a protest outside Hania's house in Karachi. An event has been created on Facebook titled 'Justice for Asim Azhar' in which people are being invited to protest outside Hania's place.
Surprisingly, until now more than 28,000 people have joined the event and are demanding justice for the Tum Tum singer. The protest is set for Sunday at 5pm.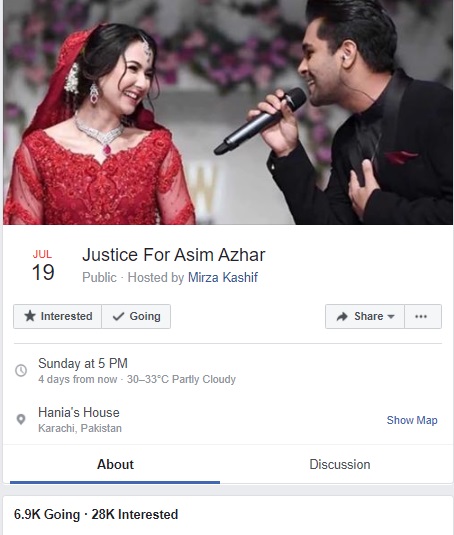 After Hania's statement in a live Instagram session with singer Aima Baig, social media was flooded with memes and sympathy for Asim. Both also became the top trends on Twitter.
"We are friends, we are not together, we are not dating, we are not a couple. But we are best friends," Hania said during the live session.
The couple is known for their chemistry. Their in-love pictures keep doing rounds on social media. Fans are bashing Hania for being unfaithful to Asim after all the years of dating.
However, after facing a lot of criticism and hatred, Hania once again replied to her trolls.
"Asim is a beautiful part of my life and we have seen some insane times together. We share a bond beyond anyone's comprehension. We choose to look at and acknowledge love, not hate. That being said, we know Pakistaniyon ka humour acha hai lekin easy hojao [We know Pakistanis are brilliant at cracking jokes but let's take it easy]. Social media ke troll sipahiyon, bilkul free na ho aur zayada over bhi nahi. Shukriya [Social media warriors no need to get over excited]," she wrote.
Now, it will be interesting to see this 'unusual' protest on a break up (LOL!).
What do you think about the story? Tell us in the comment section below.