Pakistani awaam cannot let celebrities enjoy their life, even though they are having the precious moment of their life. Even the media outlets who are ready spread false information without any background check and make celebrities' life miserable.
That's what recently happened and made the most popular singer in Pakistan Asim Azhar sort of angry. According to one of the media outlets started sharing news that Asim had labeled Merub as her sister because a fake fan chat went viral all over the internet.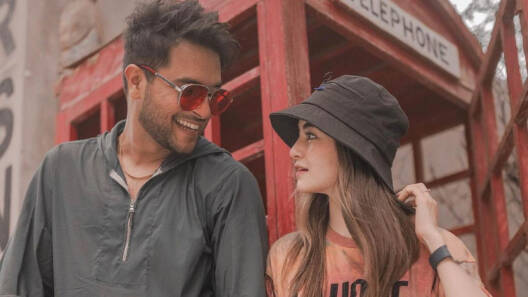 Sunday was the special moment for Asim and Merub, but news channels and netizens couldn't resist to spoil the whole happiness.
Asim Azhar upset with the false information
On Sunday evening, Asim Azhar officially announced his engagement to none other than Merub Ali and shared the post on his Instagram handle.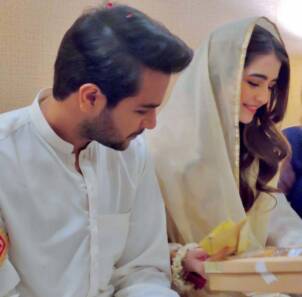 The pair wrote, "Shukar Alhamdulillah [Thank you, God]. With the grace of Allah Almighty and our parent's duas, we announce our Imam Zamin – engagement. May Allah SWT and Ahlebait keep us protected and this happy forever, Aameen. Keep us in your prayers."
But right day after Asim Azhar released another statement that showcase his disappointment with the news channel that's spreading misinformation.
People were sharing fake screenshots of a news channel that claimed Asim had called Merub her sister and on which he already cleared the air year ago.
He wrote, "Reminder since this is a beautiful moment of my life that I want to cherish, doosre ki khushi mai khush hona chahiye [learn to be happy in someone else's happiness]."
In another Tweet, he further added, "clarification was important because the "narrative was disgusting" and hinted that everyone will receive their fair share of sweets (mithai) very soon."
Even though Merub also cleared the air last year, when rumors spread that she's Asim's cousin sister, step-sister, etc. she said, "We're not step-siblings, we're not cousins. Pata nahi bas [I don't know, that's all] — we're great family friends and have known each other since childhood. My brother is his best friend and our mothers are best friends."
The couple has been under the shadow of false information because there were times when people announced Asim and Merub's engagement dates with some pictures. In which Asim's mother responded, "Refrain from bringing other humans down to celebrate us. Us ke ilawa [other than that], love you guys and thanks for all the prayers and support," she wrote.
What do you think of the story? Tell us in the comments section below.