Pakistani actors are more woke than ever. Not just actors, in fact, the whole youth. They are always up for the support of a good cause. And when it comes to a national one, patriotism takes over then there's nothing that keeps them from standing by their people. Recently, that cause is Kashmir.
The whole nation is putting in little effort to show their support and spread awareness of human rights violence in the region. Their conducts range from changing their DPs to protesting on the streets. The aim is to get the voice to the authorities so the Kashmiris could get their rights back.
While other celebrities were getting into controversies for their choice of attire at Hum Awards, Asim did something incredible. Now, if an across-border influential person like Asim Azhar shows support with Kashmir at a platform like Hum Awards, it sure makes a huge difference. So, he took the opportunity and wore a shawl that said 'I love Kashmir' to the red carpet of Hum Awards in Houston.
We already loved and admired Asim but this has earned him so much respect in the sight of the nation.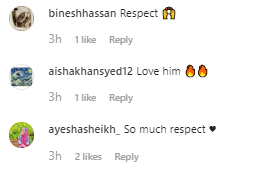 Isn't it an absolute delight to know that the Kashmiris aren't forgotten amid the glamour of the night. We're aware of Asim's patriotism but no one expected such a grand gesture from him at Hum Awards.
And the cooler part is that he isn't just wearing that shawl but he is ROCKING IT! Asim Azhar is the star of the night, not just because of that shawl. But because of the way he carried it. Totally outstanding with that Kurta Pajama between all the other megastars.
But well there are always some people who would take every small effort as a meaningless gesture. And drop their unwanted sarcastic remarks.

Like hello? Not everyone needs to go on the border to fight the war. There's a thing called celebrity influence, ever heard of it? Even changing your DP counts. It does make a difference. Because meanwhile, the government is doing their job, Kashmiris need to be consistently reminded that they're not forgotten. So, yes.
Anyway, this isn't the first time we have seen Asim be vocal about national issues. There's plenty of content you'll find on his profile that showcases his patriotism.
Asim recently posted a tweet where he highlighted how politicians could use their time in fixing the infrastructure of the country instead of defaming each other. And he is totally right about it.
The amount of energy & time our political figures put into defaming each other & talking about each other's flaws, specially here on Twitter is baffling. If only they could spend half of that on trying to fix our infrastructure..Kasam se mera mulk behtari ki raah par ajayega. ??

— Asim Azhar (@AsimAzharr) October 2, 2019
We respect how much he is concerned about the well being of the country while others are lost living their glamorous lives. This is the kind of youth we need in our country to bring the change in the air. And we are grateful that people like Asim are playing their part in it.
What do you think about Asim Azhar's Red Carpet look? Drop your comments.