The talented Pakistani singer Asim Azhar is currently on his nation-wide tour, serenading the audience in various cities. The singer has definitely come a long way from the days of uploading covers of western songs on YouTube to becoming a sensational singer in his own country; widely loved and admired.
During one of his recent concerts in Punjab , a mishap occurred – or so it seemed at the time. Headlines of Asim Azhar barely missing the shoe that was hurled at him with video proof, started running. The 'shoe' missed Asim but landed on his guitarist. The incident shocked and disappointed many. However, they admired the professional response from the young artist, who continued on with his show.
Here's how it all happened.
Asim Azhar, for the longest time, has been referred to as the Pakistani Justin Beiber of Pakistan. Since he made his way to stardom and fame at a young age. Asim Azhar although in a relationship with the gorgeous actress, Hania Amir is still the crush of many ladies. In addition to his growing popularity, Asim's brilliant performances in Coke Studio seasons definitely added more to his fanbase and value as a singer.
More so his relaxed and friendly demeanor won many hearts. Moreover, since the shoe incident angered his fans across the social media platforms and they resorted to calling out the culprit online, Asim came forward busting the wrong notion.
It wasn't a shoe but a harmless-hat. Here's Asim Azhar's fun take on the incident and clarification.
Yikes! Looks like the 'jazbaati' Pakistanis out of love for Asim got a little too far with their assumptions or was it just an honest betrayal of the eyes. But, considering the history of 'joota-attacks' with politicians being on the receiving end, it was most likely to be considered another incident involving the shoe. Even Imran Khan wasn't spared but luckily escaped the wrath.
It is quite common for performers to receive all sorts of personal belongings of their fans on stage; sometimes a bit too personal. For Asim Azhar being the popular millennial Pakistani singer, it was no different. It's good to know that no one tried to harm the singer. Asim's tour is still ongoing, with his last two destinations remaining – Lahore and Okara.
Today I start a very special journey with my team…😊 My biggest & longest tour till now!! can't wait to see you guys. ♥️ #tour #pgc 🇵🇰 #usa 🇺🇸 pic.twitter.com/3TNO05OQvB

— Asim Azhar (@AsimAzharr) October 27, 2019
Asim's fans are more than relieved after the clarification.
Eye-witness in the house.

True! But it is all part of the sensationalized news that is often quite petty.

'More power to you' says one fan in his support.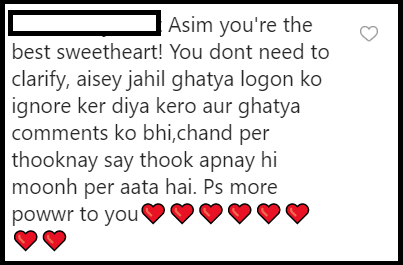 However, not all are convinced with his version of the incident. A good cover or an actual fact?

Asim Azhar apart from being a famed singer is known to be vocal about social issues including that of Indian-occupied Kashmir. He has done several songs that have become a hit. Among them is the rendition of Hina ki Khusboo. Further, he has released Jo Tu Na Mila with Aima Baig; which is also doing well for Asim. So what is your verdict? Do you consider this explanation a cover or a genuine case of the curious-cap?
Have anything to add to this story? Comment below!