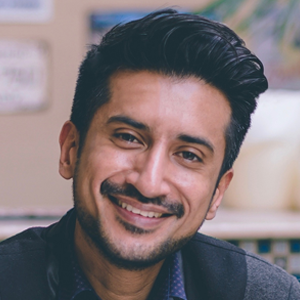 Asim Abbasi biography
Asim Abbasi is a British-Pakistani film director, screenwriter and producer. As a filmmaker, he brings highly innovative film projects to the global cinema with a lot of hard work, preparation and determination. Asim's co-workers praise him for his professionalism and work ethics. Asim is often regarded as a perfectionist as he tries to make his projects flawless.
As a director, Asim is striving hard to raise the standards and image of Pakistani cinema all over the world. His efforts have brought fame not only to him but to Pakistan also. He also has his own production company, Indus Talkies.
Early life and education
Asim Abbasi was born in Karachi. He completed his early schooling from Karachi Grammar School (KGS). Later he moved to the UK for his graduate studies. He did his bachelors from the London School of Economics (LSE).
Career
In 2012, Abbasi directed the short film Anathema. He made two more short films in 2013 named Whore and Once a Man. Two years later, Asim made his fourth short film named Little Red Roses. All of these four films were written, shot and directed in the UK.
In 2018, Abbasi's first feature film, Cake, was highly praised by the critics. The Guardian's Mike McCahill also praised Cake. He wrote, "Uncommonly alert to small, telling details, while more expansive in its attitudes, the result proves far richer and worldlier than anything previously observed coming down the Khyber Pass." Cake was also selected to be Pakistan's submission to the 91st Academy Awards for best Foreign Language Film.
In August 2020, the Asim Abbasi directed webseries Churails was released. The show depicts the dark issues of society in a completely new light. Moreover, the story of the show is based on four empowering women who are running a secret detective agency, which exposes cheating husbands in the elite society of Pakistan.
Written and produced in Pakistan, Churails – the show which was released in August on Indian streaming platform Zee5 has now been removed. Besides, it breaks new ground, smashing stereotypes, and putting strong women at the center of its story.
The web series uncovers some harsh societal realities of Pakistan with bold dialogues. It follows the stories of four women – a rich homemaker, a wedding planner, a recently released convict, and a boxer – Karachi.
These four women fight the patriarchy and misogyny. Together, they set up a detective service to help other women in need. The show features Sarwat Gillani, Yasra Rizvi, Nimra Bucha, and Meher Bano in lead roles.
Films of Asim Abbasi
Anathema
Whore
Once a Man
Little Red Roses
Cake
Social media handles of Asim Abbasi
His social media accounts include
https://www.instagram.com/a_abbasi/
https://twitter.com/illicitusproduc
Controversy
In October 2020, Churails was removed for Pakistani viewers accessing the Zee5 platform in the country. According to sources, the reason for removing Churails was that it promoted vulgarity and obscenity.
Taking to Twitter, Asim Abbasi, the show's creator, writer, and director expressed his dismay at the decision. Abbasi said he was utterly disappointed that artistic freedom and content while being appreciated abroad, was being suffocated in the country of origin.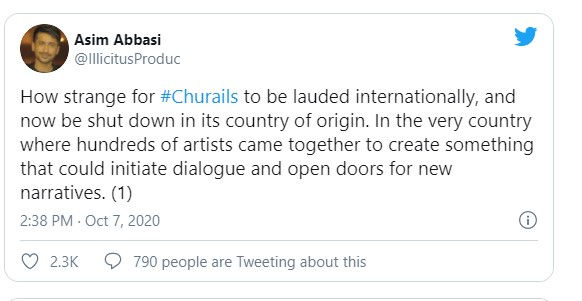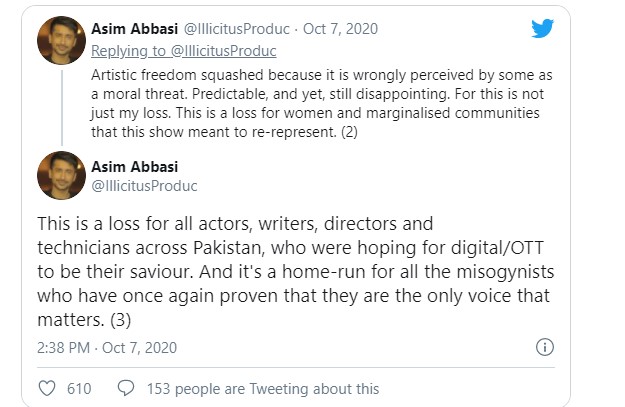 Abbasi's plea to unban the show paid dividends as the ban from the show was lifted a week later.
The show was also criticized for plagiarism. In August 2020, a tweet brought some attention to the plagiarized nature of the web series. It turned out that the opening sequence of the show shares an obvious similarity with another illustration by a French illustrator.
A viewer, Amna Tariq, noticed the eerie similarity and took it to her Twitter. She wrote, "Half a minute into the web series Churails and I spot some blatant plagiarism in the opening credits. Malika Favre's powerful illustration has been quite conveniently ripped off."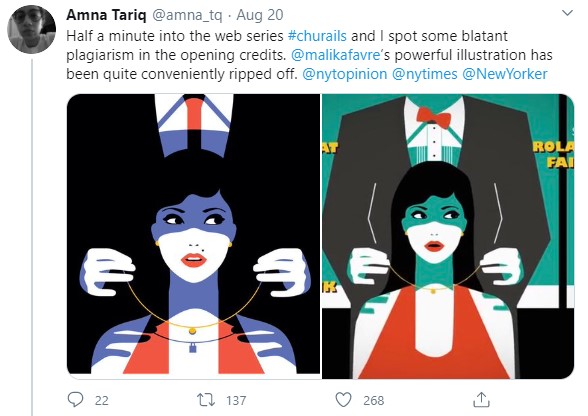 Churails show credits claim that Rokhan Studio designed the opening sequence of the renowned Pakistani web series. As it appears, they managed to conveniently copy Favre's illustration with a few minor tweaks. In addition to this, while responding to the claim, Favre said that she will look into this matter.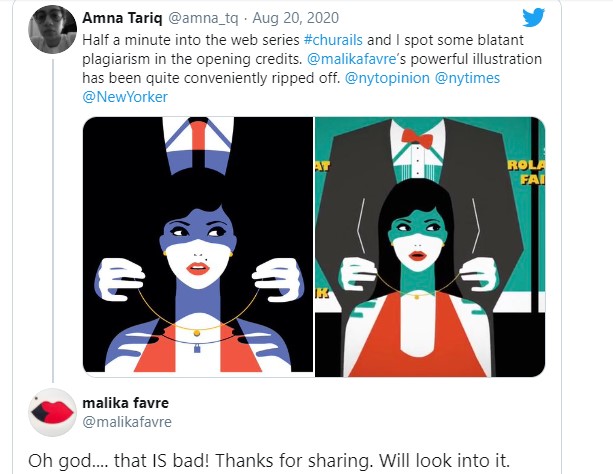 Responding to the query, Glasshouse Production released a statement. Apparently, this has been brought to their notice right now, and they claim to be looking into the matter immediately.