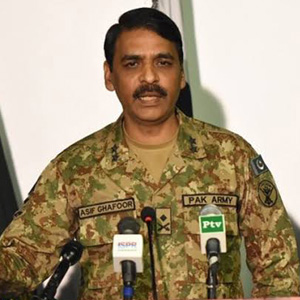 Asif Ghafoor, these days, has become a household name in Pakistan. The Major General and current DG ISPR (Director General Inter-Services Public Relations), is one of the most famous people in the country.
On December 15, 2016, Major General Asif Ghafoor took charge as Pakistan's DG ISPR and the rest is history. Throughout his tenure as the DG ISPR, Asif Ghafoor has shined at his position. He serves as the 20th spokesperson of Pakistan's Armed Forces.
Start of his career in Pakistan Army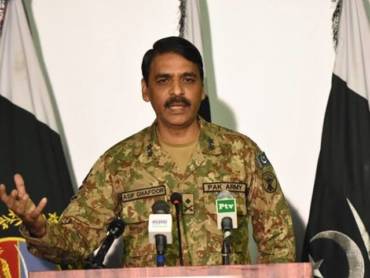 Major General Asif Ghafoor was commissioned in the Pakistan Army on September 9, 1988. Upon graduating from the PMA, Asif Ghafoor took a pledge with the SP 87 Medium Regiment Artillery. Right from the start, Asif Ghafoor showed shades of his diligence. His responsiveness to responsibility became one of his most famous traits.
Asif Ghafoor is a graduate of the Command & Staff College Quetta, National Defence University Islamabad and Command & Staff College Bandung in Indonesia. The incumbent DG ISPR gained his Master's degree in Strategical Studies, which has helped him with his work, which incorporates different dynamics of warfare.
Key positions in the Pakistan Army
Major General Asif Ghafoor has been a workhouse for the armed forces of Pakistan. He has played his part duly wherever required. He has served on some of the most key positions in the field and in the office. Asif Ghafoor has worked on many different staff, instructional and command assignments which include the following:
Brigade Major (Infantry Brigade), Assistant Military Secretary (MS Branch / GHQ), Directing Staff ( Command & Staff College Quetta), Director of Military Operations (Military Operations Directorate / GHQ). Moreover, Major General Asif Ghafoor has commanded his parent unit in operations such as Al-Mizan. He has also served in the Artillery Brigade on LoC (Line of Control), Infantry Brigade on Eastern Border, Swat and Malakand.
Major General Asif Ghafoor then went on to become the DG ISPR, one of the most key positions of the armed forces in today's day and age. The current DG ISPR is also a recipient of COAS commendation card for different operations, especially the one in Bajaur in 2008.
On March 23, 2019, President Arif Alvi bestowed Major General Asif Ghafoor with the Hilal-i-Imtiaz award for his gallant service to the nation.
DG ISPR – a social media celebrity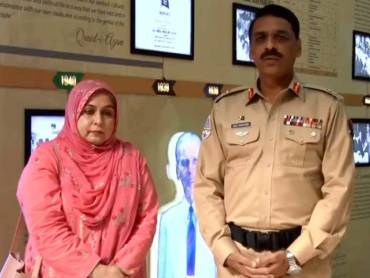 Apart from being the mouthpiece of the armed forces of Pakistan, DG ISPR Asif Ghafoor has changed the way people looked at our forces. His presence on social media has made hundreds of thousands of people his personal fans. Apart from handing the Twitter account of the ISPR, Asif Ghafoor on his personal handle (@peaceforchange) has about 450,000 followers.
Users regularly communicate with the DG ISPR on his personal profile, and his opinions are absolutely loved by his followers. Asif Ghafoor's constant presence on social media to counter-narratives built by Pakistan's enemies is always appreciated. There have been countless incidents where the DG ISPR has silenced haters of Pakistan on social media.
Apart from his presence on Twitter, Asif Ghafoor also has a huge following on Facebook and yes, Instagram too. The man behind the idea of 5th Generation Warfare and how to counter it is absolutely adored by Pakistanis.
Let alone the DG ISPR, Pakistanis are so awe-inspired by him, that even his dog Zorro has become a social media celebrity in the country.
Asif Ghafoor and his savage personality
Major General Asif Ghafoor has not only protected Pakistan on the borders but has left enemies frightened on the internet as well. There have been countless cases where his savage replies have won him so much love from the people. Let us reminisce some of them.

When Indian politician Amit Shah tried to take a shot at Pakistan when India defeated them in a cricket match. Asif Ghafoor, alert as always, replied to his tweet with: "Dear @AmitShah yes ur team won a match. Well played.  Two things with different denominators can't be compared. So are strikes & match. If in doubt please see results of our Nowshera counterstrikes & response to IAF violation on 27 Feb19 downing two Indian jets. Stay Surprised."
The point Asif Ghafoor made was in relation to Pakistan's epic humiliation of India on 27th February, where Pakistani F-16s downed Indian jets. In a result of the same, Indian pilot Abhinandan Verthaman was captured and later returned to India.
On Pakistan's Defence Day, Akcent (Adrian Sina), met DG ISPR and the two together had 'fantastic' tea, taking a jibe at Abhinandan's commentary when he was in Pakistan's possession.
When Indian ISRO's Chandrayan mission failed, DG ISPR tweeted: "Loss of 900 Billion to Indian govt for losing communication with #Chandrayan2.  How much for blocking communication in IOJ&K?  Much much more…. and not financially alone.  In Shaa Allah.#کشمیر_بنے_گا_پاکستان". DG ISPR defended the Kashmiri right and talked about the curfew that has been going on in Kashmir.
Furthermore, there was a time when Major General Asif Ghafoor firmly shut Bollywood legend Shah Rukh Khan up as well. When Shah Rukh tweeted about his new show 'Bard of Blood', where Indian agency's RAW influence was shown in Balochistan, DG ISPR tweeted: "Stay in Bollywood syndrome @iamsrk. For reality see RAW Spy Kulbhushan Jadev, Wing Comd Abhinandan & state of 27 Feb 2019.
You could rather promote peace & humanity by speaking against atrocities in IOJ&K and against Hindituva of Nazism obsessed RSS."
Asif Ghafoor behind Ehd-e-Wafa
The DG ISPR has been broadening the horizons of ISPR's production as well. He is said to be the mastermind behind Pakistan's new favourite family TV show, Ehd-e-Wafa. The show basically brings up a softer image of the Pakistan Army and showcases how cadets are taught in Pakistan Military Academy (PMA).
Apart from some famous names on the show, one star is very close to DG ISPR Asif Ghafoor. Yes, we're talking about Zorro, Asif Ghafoor's dog. Zorro featured in a couple of episodes of Ehd-e-Wafa and was loved by the audience. We're sure he's going to be making more appearances soon.
All in all, Major General Asif Ghafoor has not only been the best DG ISPR Pakistan has had, but he is also the best defender of Pakistan's narrative. He loves his job more than anyone else, which only sheds light on his love for Pakistan. The day Major General Asif Ghafoor retires as DG ISPR, will be a very sad day. Godspeed, Sir.
Who Is The Current DG ISPR Pakistan?
Major General Asif Ghafoor is no longer the DGISPR of Pakistan. He has been posted out as GOC Okara. Major General Babar Iftikhar has taken over from him as the new DGISPR of Pakistan.