What on earth he was thinking? Asian man arrested for showing off his endless wealth and disrespecting Emiratis.
For the past few hours, on social media, a man is currently trending for his ridiculous video of exhibiting his wealth to the supercar owner and giving away a hefty amount.
He's been detained by the UAE's Federal Prosecution for Combating Rumours and Cybercrimes when the video went viral.
He entered the showroom with a man holding a big case that consist of millions of AED. He's also been accused of "Abusing the internet" by publishing the video.
Asian Man Arrested For Showing Off Money
His video not only captured netizens' attention but also the UAE's higher authorities as well. UAE authorities claimed that he stirred up public opinion and harm public interest.
Moreover, the Asian expat was also charged with publishing content contrary to the country's "approved media standards" and disrespecting Emirati society.
This special move was made by the UAE's Attorney General when he closely examined the video.
In a video, it can be seen that the man wearing an Emirati dress and a face mask walks into a luxury car showroom and begins to flaunt his money.
He demanded that expensive cars be shown to him, tossing bundles of cash to employees as tips.
No Value for Money
Throughout the video he showed no value to money, giving away money to the showroom employees and his arrogance was the main highlight.
During the investigation, the Public Prosecution summoned the car showroom owner in the video.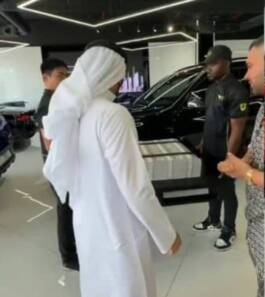 The Public Prosecution has additionally encouraged social media users in the nation to exercise caution while uploading content, saying that they should keep ethical and legal standards in mind.
Additionally, the prosecution gave residents advice to refrain from seeing anything that was immoral or detrimental to society.
See More: Hasbulla Magomedov Arrested For His Involvement In A Traffic Felony
What do you think of the story? Tell us in the comments section below.