Pakistani actor Veena Malik's ex-husband Asad Khattak claims he tried his best to bring the actor on the 'right path'. In his recent thread of tweets, he says he met the actress at the Dubai consulate and they got married in eight days. More so, he married her to bring her on the right path, but could not succeed in doing so. However, the Twittersphere criticizes Asad for marrying Veena only for the sake of fame despite knowing her reality.
Khattak released a video statement on Monday, accusing the actor of lying to him about everything. Last month, Malik was served a legal notice by her ex-husband for taking their two children to Pakistan illegally.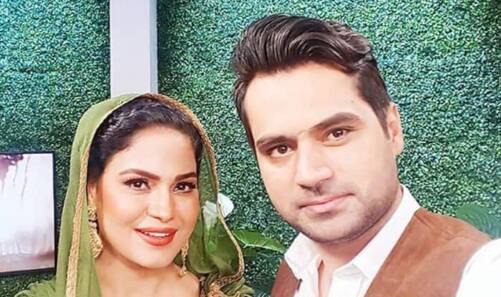 Khattak said he met Malik at the Dubai consulate and they got married in eight days. "Everyone asks me why I married Veena Malik? Veena was criticized for tarnishing Pakistan's image. As a Muslim, I married Veena to bring her on the right path," Khattak said.
Regretting that "he tried his best to mend things" between the two, Malik's ex-husband said it is unfortunate that the wedding could not last for long.
In addition to this, alleging that the former actress is mistreating his children. Khattak earlier issued a defamation notice of Rs500 million to her for damaging his reputation and 'unlawfully' taking his children to Pakistan from UAE.
According to his recent tweets, Khattak believes that he did all he could to bring Malik on the right path. However, she continued to tarnish the image of not only our religion but also Pakistan.
Khattak asks for support and justice
Taking to his Twitter, the ex-husband of the film actress writes, "The woman who left no stone unturned in tarnishing even a pure relationship like a mother. You all want to know why I married Zahida Bibi alias, Veena Malik. Here is why." Asad was evidently criticized later by Twitteratis for marrying Veena for fame and not Allah.
'You married her for fame rather, not Allah,' social media users criticize Khattak
"You were married to a celebrity, sir not a lost woman. There are many more women who have gone astray due to compulsion and want to live a life with honor and dignity. How many of them did people marry out of sympathy? Didn't you know all about it?"
"You wanted to get fame by marrying her. You both got the same mentality. It would have been better if the children would have been crushed in the mill of oppression for the rest of their lives. In such cases, one should think before marriage. Now, whatever shame you both bring to yourself, the lives of children have been ruined."
"Artificial beauty and thirst for fame bring even more humiliated, my child."
Earlier, Khattak said in a tweet, which contains Malik's abusive and threatening call to him, that Veena brought his US national children to Pakistan from Dubai using fake court orders and then shifted them to an undisclosed location.
What do you think of this story? Let us know in the comments section below.