Once again another Pakistani mountaineer conquers a milestone, but this time he's from Karachi Asad Ali Memon becomes the first person from Sindh to summit Mount Everest.
It's a piece of big news for all the Karachites out there because we all have been listening to the Pakistani mountaineer's achievements and mostly are from the Northern region.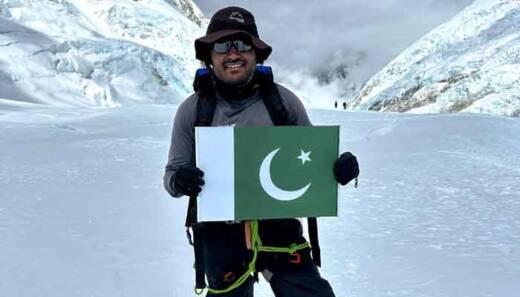 But for the first time, someone from Karachi has accomplished such a big quest in his life. Asad Ali Memon has achieved an unbelievable feat by scaling the world's highest mountain in the world.
No doubt he has printed his name in the history book with his incredible efforts. Asad is a student of Karachi's one of the finest universities as well.
Asad Ali Memon Mount Everest Summit & New Achievement
Asad Ali Memon summits the mighty rock, which scales up to 8,849 meters. His achievement not only made his parents proud but also his university as well.
After his great accomplishment, the university released a statement, "Asad has climbed the awe-inspiring peak and joined an elite group of individuals who have summited the highest peak."
The university further stated, "Conquering the majestic mountain means that he is now part of an exclusive cohort of individuals to summit Mount Everest and is now the first and only person from Sindh to achieve this feat."
Pakistani mountaineer fraternity has achieved endless popularity and success. They have been making the nation with their unmatchable records and summits.
Recently, Shehroze Kashif completed one big quest that led him to reach his ultimate goal. He summited Nepal's Dhaulagiri-I and with that, he's only a few summits away to create history.
He even became the youngest Pakistani to summit the world's eighth-highest peak in the world. He even holds the record of being the youngest Pakistani to summit Mount Everest as well.
Youngsters like Sheheroze and Asad Ali Memon undoubtedly represent the nation in front of the world with whole pride.
What do you think of the story? Tell us in the comments section below.