Olympian Arshad Nadeem, the fifth-place finisher in the men's javelin throw event at the Tokyo Olympics, was given a hero's welcome upon his return to Pakistan where he cries. The javelin thrower warns people about the fraudulent activity being carried out under his name.
Even though Nadeem could not win a medal in one of the world's largest sports festivals, he won the hearts of millions of Pakistanis for putting the country on the map with limited resources.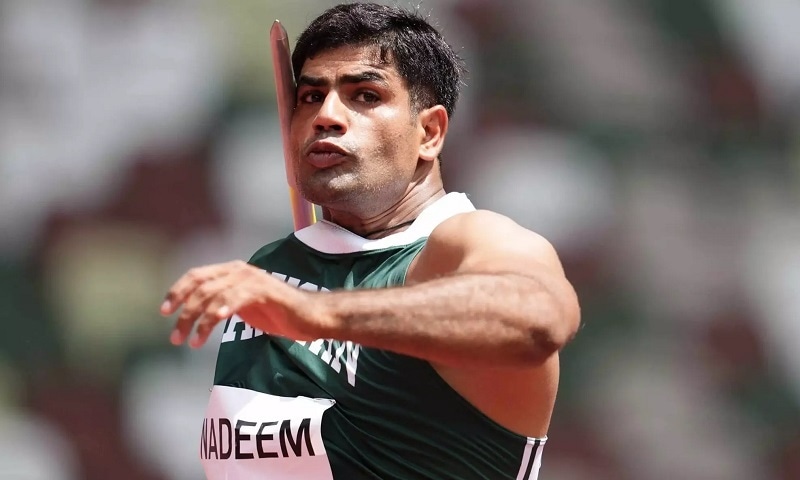 Nadeem reportedly landed at 1:30 am at Lahore's Allama Iqbal International Airport. Before his arrival, many sports enthusiasts gathered at the airport to welcome him. Rai Taimoor Khan Bhatti, Punjab's sports minister, and other officials received the athlete. Taking to Twitter, the minister said all national heroes should be lauded.
The air filled with cheers and slogans as he arrived. From outside the airport, a video clip of Olympian Nadeem Arshad shows an emotional moment where he cries. As he holds hands with his mother, he falls to his knees. Meanwhile, fans and family shower him with praise and rose petals.
As Nadeem returned to his hometown of Mian Channu, a crowd of admirers chanted the slogan "Pakistan Zindabad" in his honor. Moreover, citizens clicked pictures with the athlete.
Fraudulent activity under Arshad Nadeem's name
Nadeem had earlier on Tuesday posted something about someone fooling people and trying to collect money in order to support him. "I have not authorized anybody to collect money in my name. Be careful of such people," he warned.
Nadeem shared a video message on Wednesday via his Twitter account apologizing to his fans for sharing incorrect account details earlier. In the video, Nadeem says he accidentally mentioned @Arshadnadeem26 while announcing his recently created Twitter account, which is actually @Arshadnadeem76.
He explained that someone has already created an account under the @Arshadnadeem26 Twitter handle, and warned his fans to be cautious, as it is not his account.
Nadeem's performance had been a ray of light in Pakistan's disappointing Olympics. His loss has only made Pakistanis more vocal about improving sports facilities. We have not won an Olympic medal since 1992, and each loss in Tokyo has extended the wait by another four years.
Nadeem is a hero in our eyes. For a man from Mian Channu with a personal best of 86.38 meters, it was certainly not easy for Nadeem to come this far in the Olympics without any support from the government. Meanwhile, did you know that the Indian Sports Authority spent PKR100 million on their javelin thrower Neeraj Chopra's gold medal at the Olympics?
What do you think of this story? Let us know in the comments section below.